By Megan Erbacher
The Message assistant editor
As Diocese of Evansville Catholic schools prepared for the 2020-2021 school year, administrators developed ways to help keep students and staff healthy amidst the COVID-19 pandemic; and some had the help of their local communities to execute their plans.
Early in the summer, St. Wendel School Principal Hallie Scheu received a message that two members of St. Wendel Parish, in St. Wendel, wanted to make and donate face masks for students and staff at the school. Scheu said she was excited, but she felt exceptionally blessed when the masks were delivered to the school.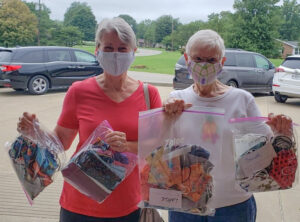 Parishioners Janet Kuester and Ruth Will made about 80 cloth face masks for the school community. The women made four different sizes using a variety of colors and patterns, including dinosaurs and pink sparkles.
"Each mask was made with such thought and prayer…. They are just so cute," Scheu said.
Just about two weeks into the new school year, Scheu said St. Wendel also received unsolicited donations of hand sanitizer and thermometers.
"St. Wendel Catholic School is blessed to have such a supportive and caring parish community that continues to support the school day in and day out," she said.
At Evansville's Westside Catholic School, Principal Kelsey Meier knew her school needed dividers for students who sit together at tables. After pricing several options and realizing it could cost thousands of dollars, Meier talked to her dad and husband, and they immediately offered to help.
Using plexan glass, wood and connective strips, the trio made 130 movable dividers. 
"They work great," Meier said. "They are better than the traditional dividers because they are movable. You can adapt the size and shape by connecting pieces with the strips.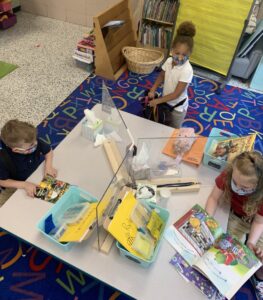 Mainly younger students sit together at tables, Meier said, so the dividers are being used in those classrooms. However, some teachers have also used the dividers in upper-grade classrooms.
Meier expressed her gratitude to her husband and dad for their assistance with the dividers.
"I was so happy that they wanted to devote many hours to helping make this possible and affordable," she said. "They are always willing to help me with projects and ideas. What a blessing!"
At Holy Rosary School in Evansville, Principal Joan Fredrich is happy to be back in the school building with students, but she knew some precautions were necessary.
Fredrich thought about students returning to the classroom from recess, which is one of the most congested times of a day. So, she had an idea: an outdoor handwashing station.
"I was hoping that if all kids washed their hands outside before going back in, then only a smaller number of students would actually need to go into the restroom," she said. "As you can imagine, restroom breaks take longer because we send in fewer students at a time to help with physical distancing and to prevent crowding."
Fredrich shared her idea with Holy Rosary Parish manager Joe Holtz, and he brought her idea to life.
Holtz said the goal is to keep students and staff safe and healthy by offering socially distanced handwashing. He pondered a few ideas before making a prototype. Once approved, he built two more units.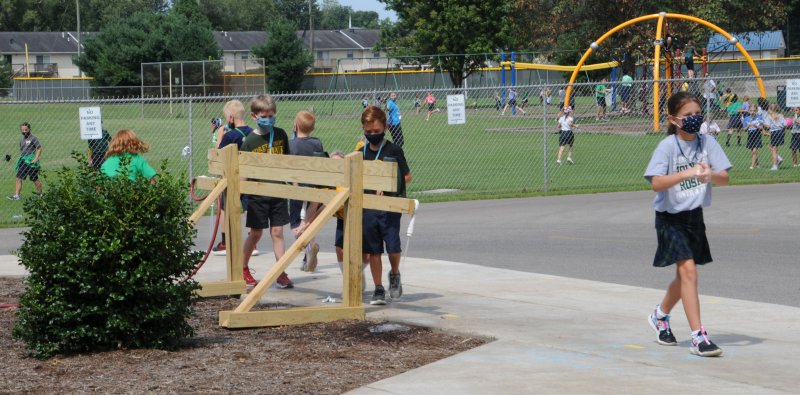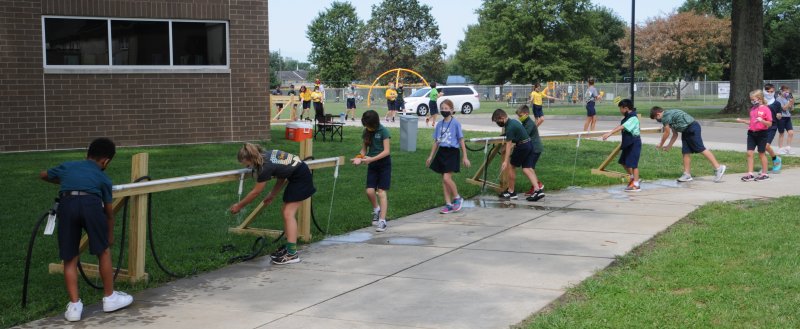 The three stations, made of wood and PVC piping, are located along the sidewalk where all of the students walk when they return to the building from recess. The first station is where students wet their hands and get soap from one of two dispensers. The other two stations don't have soap because they're only for rinsing.
The first is stationed farther from the second two, Fredrich explained, so the kids can wash their hands and lather the soap for at least 20 seconds as they walk from the first station to the next.
"The end product seems to be working well," Holtz said. "The students seem to enjoy it, and it gets the job done - washing their hands."
Holtz knew it was important for students to return to in-person classes, and he wanted to help make their return safer and easier. Plus, he strives to do something nice for another person each day.
"Helping others is what we are supposed to do," he said. "It is what our faith calls us to do. Finding ways to answer that call is all around us. Sometimes we need to be open to where that need is."
Fredrich said she's grateful to Holtz for understanding how the handwashing stations could offer efficiency and social distancing, which are necessary during this time.
"Joe Holtz has come through for us over and over during this time as we have been planning and implementing then adjusting ideas, plans and procedures to make it possible to return to school," she said. "We are grateful for what he shares of time and talent at Holy Rosary."