Special to The Message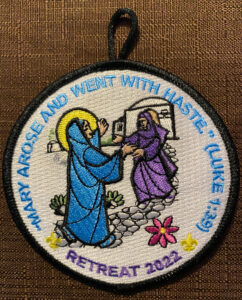 The Diocesan Catholic Committee on Scouting held its annual Scout/Venturer Retreat March 5. Diocesan Scout Chaplain Deacon Charles Koressel of St. Philip Parish in Posey County leads the DCCS. The retreat theme was that of Pope Francis' 2022 World Youth Day: "Mary arose and went with haste" (Luke 1:39). Talks and activities throughout the day reflected the theme. 
Scouts and leaders from troops and venture crews sponsored by the following parishes attended: St. Benedict Cathedral, St. Boniface, Christ the King (Ferdinand), St. John the Baptist (Newburgh), and St. Wendel. Pizza was enjoyed for lunch as well as a break to go outside with some activities and to experience a beautiful springlike day.
Father Garett Braun, parochial vicar of St. Francis Zavier in Vincennes and St. Philip Neri in Bicknell, celebrated Mass to open the retreat. Father David Nunning, senior priest of the diocese, closed the retreat by celebrating the weekend anticipatory Mass. Father David and Father Jason Gries, pastor of Holy Redeemer Parish in Evansville, heard confessions during the day. The retreat also included Eucharistic Adoration and the rosary, with Deacon Charlie leading Benediction. Attendees also prayed the Angelus and the Midday Liturgy of the Hours. They were also introduced to the Chaplet of Divine Mercy and Stations of the Holy Eucharist. Diocesan seminarians Nick Biever, Nathan Folz and Keith Hart gave talks related to the theme.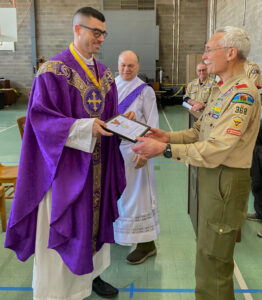 Other activities included a blindfold spiritual walk and a number of joyful exercises and challenges. While the youth activities were going on, some adults participated in counselor training for the youth religious emblems or in Catholic Leadership Formation (Spiritual Formation), which emphasizes the importance of scouting as youth ministry.
Several adults received recognition for significant service in youth ministry through scouting. The Bronze Pelican Emblem was given to Father Garrett, DCCS member Matthew Kremer of St. Joseph Parish in Vanderburgh County and Brad Raben of Holy Rosary Parish in Evansville. Raben was unable to attend the retreat. Scouts in attendance who earned the Ad Altare Dei emblem were also recognized.