Seminarian Blaise Kelley
Seminary, Class: Bishop Simon Bruté College Seminary in Indianapolis, Sophomore
Home Parish: St. Wendel Parish, St. Wendel
Birthday: Oct. 10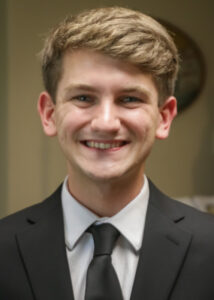 The Eucharist has always played an essential role in my vocation story and has reinforced my desire to become a priest. My belief in the Real Presence has led to a greater appreciation for the work in which priests take part.
I first truly felt the Real Presence of Jesus Christ in the Eucharist during my time on the pilgrimage for life in Washington, D.C. We had an Adoration service after a rally for life that took place in a large gymnasium. While my group was seated in the nosebleed section of the gym, I knew in my heart that Jesus was truly present in the monstrance held by the priest. Though the physical distance was immense, I could feel His presence washing over me. 
Again this past February, I felt God listening to me as I prayed in front of the Eucharist on a retreat. I asked Him for help with my discernment, and I knew He was right in front of me with His hand on my shoulder, consoling me and giving me the grace I needed to continue discerning. 
As a result of these experiences, I started to attend Eucharistic Adoration more regularly, which provided an opportunity to hear the voice of God while also nourishing my prayer life. Through Adoration, I felt God calling me to something extraordinary, and I felt peace in His presence when I thought about entering seminary. 
The Eucharist provides the foundation for my discernment, and it is the first place I go to whenever I am in need of reflection and prayer. As Jesus said, "I am the Bread of Life. Whoever comes to me will never hunger, whoever believes in me will never thirst" (John 6:35).