Seminarian Clint Johnson
Seminary, Class: St. Meinrad Seminary and School of Theology, 2nd Theology
Home Parish: Holy Cross Parish, Fort Branch
Birthday: Dec. 30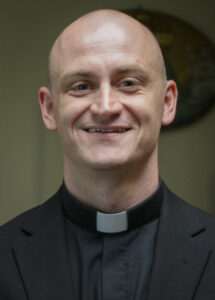 Belief in the true presence of Christ in the Eucharist has always been very difficult for me. I could believe just because people say it's Jesus, but I've always had a deep desire to feel that it truly is him. Likewise, in my discernment for the priesthood for the past four-ish years, my prayer was, just tell me what you want me to do, and I'll do it.
My grandma quoted Mary's words from the wedding at Cana when I first entered seminary: "Do whatever he tells you."
I first went to seminary guessing that I should, but I still wasn't sure after two years. I just assumed I would keep going rather than continue to be open. Seminary in Rome shook me up quite a bit. I became anxious about continuing because the priesthood felt so close, and I felt completely inadequate. So, I resorted back to what I wanted to do at the time because I knew for certain what that life was like.
When I arrived home, I began working again and was happy to be back, but I soon felt a huge hole in my life. I was missing the object of my desire because I made that goal my own comfort – a very weak goal.
I began reconsidering my decision, but just as before, I was plunged into great doubt and darkness. Anxiety accompanies uncertainty, and doubt follows. As I began to reapply to seminary, I believe God allowed darkness to follow. Every step forward, I was met with anxiety, but I pressed on trusting God's care. "Even though I walk through the valley of the shadow of death, I fear no evil, for You are with me." Because of this darkness, the light guiding me was so blinding and so overpowering.
In choosing to make the sacrifice, God also allowed me to feel the love that accompanies the sacrifice – the same love we receive every day when we go to Mass but may not realize it. The best I can describe it is the love a parent has for a suffering child. Watch "The Passion of the Christ" – the scene when Mary sees Jesus fall. She has a flashback to him as a child falling. She rushes to help him, dropping everything because he is the only thing that matters.
It's with the same compassionate love that Jesus picks up his cross and goes to death for our salvation. "As a mother comforts her son, so will I comfort you."