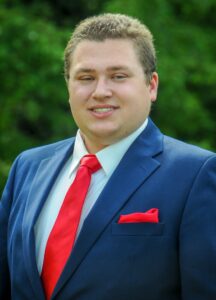 Name: Keith Hart
What are your parents' names? Bud and Anita Hart
Current Parish: St. Peter, Montgomery
What kinds of ministries were you involved in at your parish? What kinds of Diocesan retreats/events have you attended that have been helpful?
I have been involved in serving, sacristan work, and religious education at my parish.
When did you start thinking of priesthood? What made you think of it?
I had an interest in the Church from a young age. The first time that I seriously considered priesthood was after my confirmation.
What aspect of priestly ministry is most attractive to you? Why?
I want to bring the sacraments to people, because it is in the sacraments that we encounter Christ.
What gives you hope for the Catholic Church today?
The Church is the Bride of Christ. He loves her dearly and will always be faithful to her, even when our human failings get in the way. The Church is not ours. She belongs to Christ, and He will always protect her.
What Scripture passage hits home with you the most these days? Why?
Whenever I become disheartened, I return to John 6. Christ gives Himself to us in the Eucharist. This fills me with hope and encourages me to give myself to Christ.
What things do you find life-giving? (Reading? If so, what have you read? Movies? If so, what movies have you enjoyed? Music? If so, what music moves you? Hiking, exercising? Explain why.)
I enjoy reading. I think that reading is important for strengthening a Christian imagination. I try to read a variety of subjects, such as history, speculative fiction and theology. I particularly enjoy British literature and will be taking a class on Shakespeare this fall.
What is the hardest part of going to seminary? What are you most excited about this year for seminary?
The hardest part of seminary for me is time management. I finish my essays on time, but I usually only finish them the night before the due date. I am excited to see my friends and brother seminarians again.