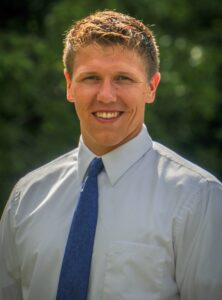 Name: Nicholas Sellers
What are your parents' names? Jeff and Amy Sellers
Current Parish: Holy Cross, Fort Branch
What kinds of ministries were you involved in at your parish? What kinds of Diocesan retreats/events have you attended that have been helpful?
Being involved with my home parish's youth group, attending Source and Summit and being involved with TEC were all wonderful opportunities that led me into the seminary.
When did you start thinking of priesthood? What made you think of it?
The first time I thought about being a priest was at Source and Summit my 7th grade year. I was surrounded by many priests and religious during adoration, and I thought that Christ might be calling me to live in the same way he had called all of them.
What aspect of priestly ministry is most attractive to you? Why?
The idea of being a spiritual father to God's children along this journey of life has always been very attractive to me.
What gives you hope for the Catholic Church today?
I have hope in the Catholic Church because Jesus Christ is our founder, and He promised us that the gate of Hell would never prevail against His Church. If we stay near our Mother and the Sacraments we will indeed prevail!
What Scripture passage hits home with you the most these days? Why?
"Greater love has no one than this: to lay down one's life for one's friends."
— John 15:13
I often ponder John 15:13 because our life is a gift, and this verse reminds me that there is no greater joy than to give yourself as a gift to others.
What things do you find life-giving? (Reading? If so, what have you read? Movies? If so, what movies have you enjoyed? Music? If so, what music moves you? Hiking, exercising? Explain why.)
I love rising early in the morning to watch the sunrise, pray and drink coffee. There is something about the dawning of a new day that cries out for new hope and adventure. I also enjoy reading just about anything, and I like playing sports.
What is the hardest part of going to seminary? What are you most excited about this year for seminary?
The most terrifying and most wonderful part of each year of seminary has been taking a leap of faith into the unknown of discerning priesthood. Discerning God's will is not always easy, but it is truly an amazing adventure!