Seminarian Tyler Underhill
Seminary, Class: Pontifical North American College in Rome, Italy, 3rd Theology
Home Parish: Our Lady of Hope Parish, Washington
Birthday: July 30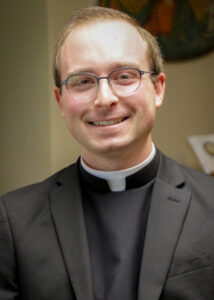 St. Thomas Aquinas, in one of his most important works, wrote, "The Eucharist is the perfect sacrament of our Lord's Passion," and how true this is! In my vocational discernment to the priesthood, I have always acknowledged in both mind and heart that what drew me first towards this calling in life was the Eucharist. 
Serving Mass as a younger child, I was given a special opportunity to be able to witness, up close, the very act of bread and wine becoming the Body and Blood of Jesus Christ in the Eucharist. Oftentimes, what struck me about this was not only the fact that God became present on the altar, but as the priest would say those words of consecration, and after elevating the host and chalice, his gaze towards the Eucharist was itself an eye-opener for me. It was as if the priest was truly present at the Lord's Passion, there at Calvary, staring at the Crucified Lord. After all, the Mass is the very sacrifice of Christ remembered on the un-bloody altar.
This connection with the Lord's Passion and the gift of his Body and Blood is a gift we can receive and honor. It is the greatest act of worship, and to be able to celebrate that one day, unworthy as I may be, is one of the most important calls, I believe, God has placed in me. 
I was fortunate enough to ponder this and pray about it in the perpetual adoration chapel of my home parish while I lived in Washington. Reflecting on this gift of the Eucharist in my vocation and its connection with Christ's Passion calls all of us to a conversion of life, transforming our own bodies after the patter of Christ's Body. This "cruciform" living is indeed the life we are all called to, and this is especially true in priesthood, for it is in the person of Christ that the priest offers this great mystery. It is in this offering, also, that the Mystical Body of Christ, his Church, and the People of God, are brought to partake and adore the Lord.
With all this in mind, and with the hope that one day soon God will allow me to offer this great gift to his Church in the Sacrifice of the Mass, I am very thankful.