Special to The Message
The Serra Club of Evansville is proud to announce the recipients of its 2021 Youth Service Award.
The recognition is awarded annually to eighth-grade students in diocesan schools and religious education programs. The Youth Service Award recognizes students for Christian leadership, Christian formation and community involvement.
John East, Sera Club of Evansville president, said it's important to recognize the service of our students because it is from service that vocations grow. East said vocations to the priesthood and religious life depend especially upon one's inner developed desire to serve others and to give of themselves.
This year's recipients served their parish, church and community and conducted personal formation in a variety of ways including:
Mass Server

Member of choir, song leader

Usher

Greeter

Sunday school aid

Vacation bible school leader

Lector

Member of 4H

Help with soup kitchen

Nursing Home volunteer

Summer social worker

Active in Scouting

Youth group

Teen Power

Big Brother/Big Sisters

Taught kindergarteners how to play kickball

Mission service trips

Service projects for school

Source and Summit attendee

Student Council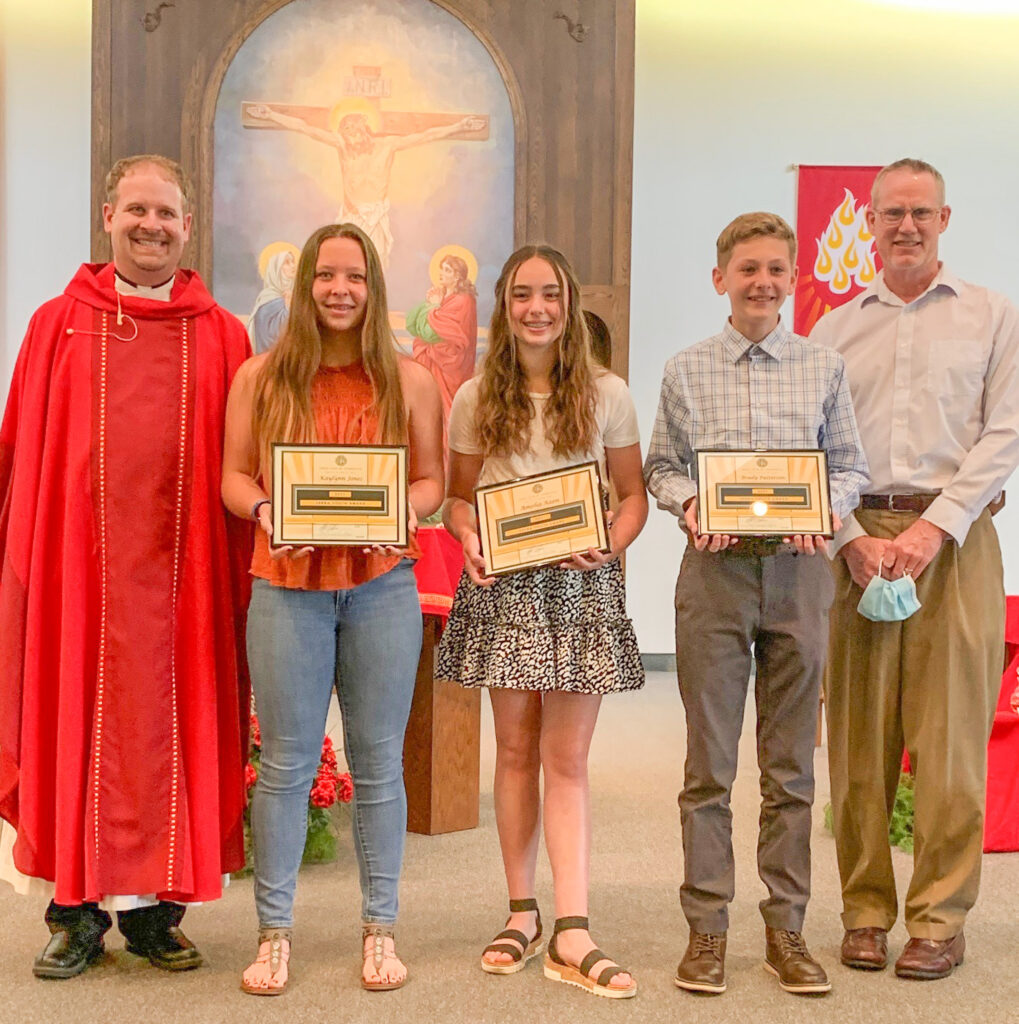 This year's honorees include:
Annunciation School, Holy Spirit campus, Evansville: Allison Holsey, Emma Holsey and Nate Holsey, children of Donald and Stacey Holsey
Corpus Christi School, Evansville: Hannah Sammet, daughter of Michael and Sara Sammet; Isaiah Schaefer, son of Greg and Kristi Schaefer
Good Shepherd School, Evansville: Andrew Keck, son of Troy and Beth Keck; Garrett Quick, son of Tom and Amy Quick
Holy Cross School, Ft. Branch: Emily Holzmeyer, daughter of Jason and LeeAnn Holzmeyer; Beau Rose, son of Brian and Mandy Rose
Holy Redeemer School, Evansville: Kaylynn Jones, daughter of Ken and Jennie Jones; Brady Patterson, son of Dan and Chris Patterson; Amelia Keen, daughter of Mike and Mary Jo Keen
Holy Rosary School, Evansville: Adelaide Fredrich, daughter of Greg and Joan Fredrich; Nicholas Hirsch, son of Greg and Rachel Hirsch
Resurrection School, Evansville: Alyssa Beyer, daughter of Matt and Jamie Beyer; Landon Fehrenbacher, son of Brent and Jennifer Fehrenbacher
St. Benedict Cathedral School, Evansville, Clara Collins, daughter of Shelby and Rip Collins; Gabe Wittmer, son of Peggy and Josh Wittmer
St. John the Baptist School, Newburgh: Margaret Janney, daughter of Stuart and Maria Janney; Matthew Titzer, son of Michael and Paulette Titzer
Sts. Peter and Paul School, Haubstadt: Lucas Church, son of Aaron and Jessica Church; Elizabeth Steckler, daughter of Phil and Jessica Steckler
St. Philip School, Posey County: Grace Folz, daughter of Kevin and Renee Folz                     
St. Wendel School, Wadesville: Bethany Eades, daughter of Jason and Lisa Eades; Lisa Muensterman, daughter of Bob and Pam Muensterman