The Message assistant editor
The Serra Club makes an impact by sponsoring programs like the annual Vocation Awareness Luncheon, according to Benedictine Father Denis Robinson, President-Rector of Saint Meinrad Seminary and College of Theology in St. Meinrad. Father Denis said the event plants seeds in young people that "will bear fruit."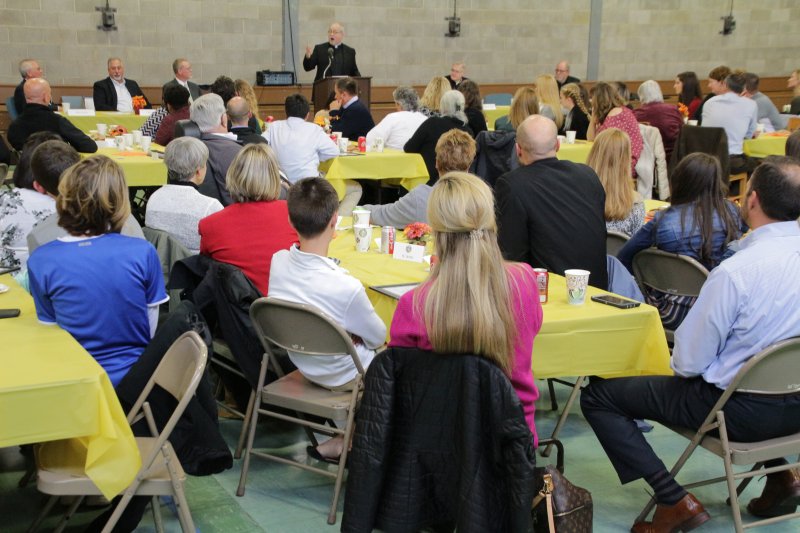 On Nov. 7, the Serra Club recognized 35 eighth-graders representing 17 diocesan parishes during the annual luncheon at the Catholic Center in Evansville. The program, which coincided with National Vocation Awareness Week from Nov. 3-9, recognized students for creating projects focused on different vocations.
Club President John East said it's a joy to annually celebrate the "great works of our eighth-grade students as they examined vocations." East said he is excited about the continued growth of the program, and reported 351 projects were submitted this year from across the diocese.
Each year, Serra Club asks students in Evansville-area parishes to create projects related to vocations. Selected students are invited to the luncheon for recognition and to receive an award from the club. Also welcome were parents, principals, teachers, pastors and religious educators.
Before blessing the meal, Bishop Joseph M. Siegel welcomed the nearly 200 people to the luncheon. Bishop Siegel said young people are a vital part of the Church today; and moving forward, God will call them to serve the church in various vocations – priesthood, diaconate, religious life, marriage and lay ministry.
The bishop said the Evansville diocese is blessed to have young people who have an interest in and desire to listen to God's call. Bishop Siegel told students God wants more joy for us than we can hope for or imagine.
The bishop thanked students for participating in the Vocations Awareness program and for their desires and efforts in thinking about what God may be calling them to do.
Bob Smith, Serra Club member, announced award-winners who received certificates and had their photo taken with Bishop Siegel and East. Winning projects were diverse and ranged in creativity. They included board games like "Don't Be Late to Church," essays, posters, art projects, books written and illustrated by students and PowerPoint presentations.
One student created greeting cards with encouraging messages to send to seminarians; another wrote prayers for people in different vocations; and a third student hand-painted Russian nesting dolls, designating the smallest to represent the Holy Spirit because it fits inside all the other dolls.
Father Denis served as the event's featured speaker. He praised students for their impressive, hard work on the projects.
"I always love to see the energy that is in a room like this," Father Denis said.
Father Denis said the best part about his job as President-Rector of Saint Meinrad Seminary and College of Theology in St. Meinrad is attending ordinations to see how much that new priest means for the people gathering in the church on their ordination day.
"At Saint Meinrad we are very much about building up the life of our church through particular vocations and that's a very important thing. ... (But) Vocation is not only about priests and lay ministers and deacons," Father Denis said.
Each one of us has a call, he told students.
"I think one of the things we are beginning to realize more and more is the fact that all of us have a vocation – a particular vocation – but also the very general and very important vocation of building up the church in Christ. … All of us are called to build up the kingdom of God."
2019 Serra Club Vocation Awareness Luncheon Winners
St Joseph Parish
Zoe Schell
Kylie Frey
Holy Rosary Parish
Addison Fisher
Emma Payne
William Hirsch
Annunciation Parish at Holy Spirit School
Audrey Moran
Avery Clayton
Annunciation Parish at Christ the King School
Isabella Sauer
Seth Bosler
St Benedict Parish
Greta Diehl
Sebastian Wilson
Avery Parris
Holy Cross Parish
Jack Rose
St's. Peter & Paul Parish
Aleks Parmer
Lilly Schmitt
Good Shepherd Parish
Anna Hart
Madison Schaefer
St. James Parish
Hayden Pennington
Emilee Bullock
St Wendel Parish
Blaine Herr
Courtney Straub
Resurrection Parish
Aubree Beyer
Kendal Waugerman
St Boniface Parish 
Madelyn Hayden
Mason Hinman
Corpus Christi Parish
Caden Moore
Chelsea Turner
St John the Baptist Parish
Blake Hershberger
Grace Mitchell
Holy Redeemer Parish
Regina Ann Catanese
Lillian Elizabeth Mayfield
St Philip Parish
Addison Kelly
Mallory Kempf
St Bernard Parish
Kiley Kemper
Kadence Probus