Special to The Message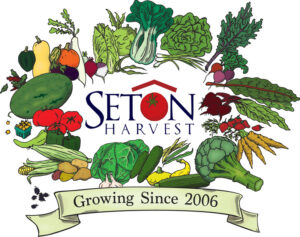 Editor's note – When Seton Harvest Community Outreach Manager Julie Dietz provided the information for this story to The Message, she said, "As the first message that was placed on our farm t-shirts stated, 'I planted the seed, Apollos watered it, but God kept everything growing" (I Cor. 3:6)  This verse became our mantra; and very soon, we understood its meaning." 
Just as a mustard seed, the tiniest of all seeds, grows into a magnificent plant, so did Seton Harvest. 
In the spring of 2016, Seton Harvest, a ministry of the Daughters of Charity Province of St Louise, began its first of what is now 18 seasons, as Evansville's first community-supported agriculture. 
A CSA brings together community members, a farmer, and agricultural land in a relationship of mutual support based on an annual commitment to one another. Community members pay the farmer an annual membership fee to help cover the production costs of the farm. In turn, members receive a weekly share of the harvest. Throughout the growing season, the farm harvests fresh crops that are divided equally among the shareholders. All crops are grown free from the use of chemical pesticides, herbicides, fungicides and synthetic fertilizers, which makes Seton Harvest crops Certified Naturally Grown. 
Members receive produce that is picked at the peak of ripeness, flavor and nutritional value. Both partners share in the risks and rewards of small-scale farming – weather, insect damage and bountiful crops. CSA restores the lost connection between people and agriculture by allowing members to be directly connected to how their food is grown. 
Seton Harvest grows a diverse range of crops because the yield of each crop changes from year to year. By growing many different varieties, Seton Harvest can provide 6-10 different vegetable crops to shareholders throughout the 26-week growing season. The season typically runs from mid-May through mid-November. Seton Harvest shareholders pick up their weekly produce either Tuesday evenings at the farm, on the westside of Evansville, or Saturday mornings or from the Veggie Van located at St. Vincent-Epworth Crossing. 
Sixty-five individuals took the risk with the farm and became shareholders during the first growing season in 2006. By the 17th season in 2022, the number of shareholders had grown to 131.
This is Seton Harvest's mission statement:
Seton Harvest, a ministry of the Daughters of Charity, promotes care of the environment by growing food naturally; shares produce with local shareholders and people in need; and provides education opportunities for sustainable living.
As a part of that mission, the ministry provides that same healthy produce to those living in poverty by delivering weekly shares to area homeless shelters, food banks, church pantries and lower income elderly housing units. In 17 seasons, Seton Harvest has donated over 141,000 lbs. of fresh produce locally. 
As the 2023 season quickly approaches, there are still plenty of shares available. Seton Harvest offers a full share for $740 and a partial share for $500. There is an added convenience fee of $80 for the Epworth Crossing location. By becoming a shareholder, not only will you be receiving fresh, naturally, locally grown healthy produce, but you will help support the Seton Harvest mission of serving those in need. 
For more information on becoming a shareholder please contact Julie Dietz, Community Outreach Manager, by phone (812-963-7692 office or 812-470-6597 cell) or email [email protected]. You are also welcome to visit the website at www.setonharvest.org.