Special to The Message
For Sister of Providence Jessica Vitente, Aug. 14, 2021, almost seems like a blur.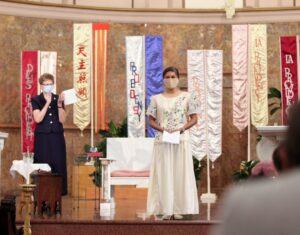 Sister Jessica, a native of Pomona, California, entered the Congregation of the Sisters of Providence on Sept. 10, 2018. And on Aug. 14, she professed first vows as a Sister of Providence of Saint Mary-of-the-Woods, Indiana, during a celebration in the Church of the Immaculate Conception at Saint Mary-of-the-Woods.
"The liturgy and day happened so fast," Sister Jessica said. "And I am grateful for all the prayers, love, support and graces to keep myself grounded. They allowed me to not fly too fast up to the mountaintop."
Prior to her first experience with the Sisters of Providence, Sister Jessica graduated from Mount San Antonio College in California with an associate's degree in accounting. She also received a bachelor's degree in human development from California State University, Long Beach.
Sister Jessica first became aware of the Sisters of Providence during the 2015 Los Angeles Religious Education Congress in Anaheim, California. After visiting Saint Mary-of-the-Woods later during a Come and See Retreat, Sister Jessica knew she was on the right path.
Three years of discerning allowed her to realize becoming a woman religious with the Sisters of Providence was the additional fit for her identity. Now that she has professed first vows, she begins a new path toward profession of perpetual vows.
"I feel a deeper and continued peaceful joy after proclaiming my public commitment in front of my Sisters, family and friends," she said. "The feelings are indescribable. After a couple of weeks, I feel a continued wholesomeness and completion.
"I have said, 'Yes, I want to live a life of poverty, chastity and obedience.' I am called to a prophetic life to live and share love, mercy and justice with the people I encounter. I want to deeply listen to my Provident God and the promptings of the Holy Spirit."
Following the profession of first vows, a Sister can renew the vows for one, two or three years at a time. The Sister also regularly meets with a mentor and continues to live with other Sisters while ministering. The final year prior to profession of perpetual vows is called the Tertianship, a year that includes engagement with other Sisters, reading, reflecting, community living, service and a 30-day retreat.
"We are always welcoming new women who wish to join in our mission," said Sister of Providence Jenny Howard, a member of the Congregation Leadership. "The purpose of this Congregation is to honor Divine Providence and to further God's loving plans by devoting ourselves to works of love, mercy and justice in service among God's people.
"We're very blessed to have new members so that together we can carry forward God's mission in our world."
Sister Jessica serves as the Catholic Campus Minister at the University of Evansville through the Diocese of Evansville.
"I will continue to live with Sister of Providence Mary Mundy in our little local community in Evansville, Indiana; and continue to deepen my relationships with local Providence Associates," Sister Jessica said. "Now that I have professed first vows, it feels so good to immerse myself into the next step."
Would you like to learn more about life as a Sister of Providence? Visit SistersofProvidence.org or contact Sister Joni Luna, Sisters of Providence Vocation Director at 361-500-9505 or via email at [email protected].
About the Sisters of Providence
The Sisters of Providence, a Congregation of nearly 240 women religious, with nearly 300 Providence Associates, collaborate with others to create a more just and hope-filled world through prayer, education, service and advocacy. The Sisters of Providence have their motherhouse at Saint Mary-of-the-Woods, located just northwest of downtown Terre Haute, Ind., which is now listed in the National Register of Historic Places. Saint Mother Theodore Guerin founded the Sisters of Providence at Saint Mary-of-the-Woods in 1840. Today, Sisters of Providence minister in 13 states, the District of Columbia and Asia, through works of love, mercy and justice. More information about the Sisters of Providence and their ministries may be found at SistersofProvidence.org.
For more information, contact Jason Moon, media relations manager, at 812-535-2810, or email [email protected], or contact Maureen Dickinson, director of Advancement Services, at 812-535-2801.