Special to The Message
Well-known Catholic evangelists Jackie Franchois Angel and Fr. Leo Patalingug are coming to the 2023 SOURCE + SUMMIT retreat weekend in Evansville! Reitz Memorial High School will host the youth retreat (for ages 13-24) March 17-19, and the Christ the King campus of Annunciation Parish will host the adult retreat March 18. 
The theme for the retreats this year is "Through Him and With Him and In Him."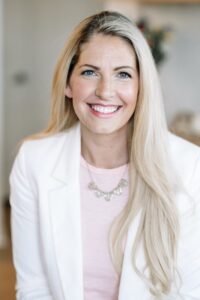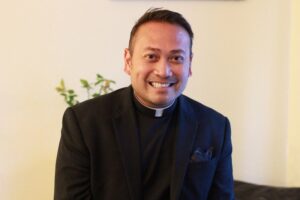 About the special guests
Jackie Franchois Angel is a favorite at NCYC, SEEK and Steubenville Youth Conferences. An amazing youth evangelist, worship leader, author, songwriter, Ascension Presents contributor and mother of four, Jackie has changed the lives of thousands of young people around the world by giving them confidence in who God created them to be.  
Father Leo Patalinghug is an NCYC presenter, internationally acclaimed speaker, host of EWTN's "Savoring our Faith," radio host, author, chef and founder of Plating Grace. Father Leo will be sharing his unique and energetic style of proclaiming of the Gospel during his presentations to youths and adults from around our diocese!  
Other presenters
Giancarlo Bernini, a popular Catholic catechetical illusionist who, patterned after St. John Bosco, teaches profound truths through entertaining and engaging his captivated audiences, is back by popular demand!  His personal testimony and down-to-earth interactions with all participants have made him a favorite friend of Source + Summit!
Father Tyler Tenbarge, Diocesan Director of Vocations, Source + Summit Chaplain Father Sudhakar Bhastati and many of our local priests will attend and participate. They are the real rock stars and heavy lifters behind the scenes – hearing confessions not just during Source + Summit, but every day in your faith life in this diocese.
The Franciscan Friars of the Renewal, the Dominican Sisters of St. Cecelia and our own religious and deacons will participate throughout weekend, leading attendees in prayer and talks. They will enhance this retreat experience by sharing the spiritual fruits of their lives – serving His church living Through Him and With Him and In Him.   
Bishop Joseph M. Siegel invites the youth in our diocese to come together at this very unique and grace-filled time of prayer, worship, adoration, faith-sharing and fellowship to be renewed in their love for Jesus in the Holy Eucharist. Bishop Siegel looks forward to being with the participants to celebrate the closing Mass on Sunday morning. 
Cost is for the youth retreat at Reitz Memorial is $50 for first child $35 for each additional sibling.
Cost for the adult retreat is $30 – or $20 if you have a child attending the youth retreat. Lunch and free childcare will be available. 
For complete information go to www.sourcesummitevanvsille.org  or call 812-453-1024.