By Megan Erbacher
The Message assistant editor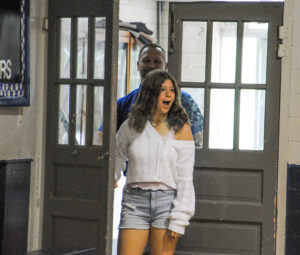 On May 26, Madalyn Morgan had lunch with her father, Scott, then she had a meeting with her classmates and St. Bernard Catholic School Principal Ryan Nowak. The incoming eighth-grade class didn't know specifics about the meeting, so Madalyn was shocked when she entered the gym and realized everyone was gathered to celebrate her.
Google hosted the reception at St. Bernard in Rockport to honor Madalyn, 13, as she was announced Indiana's Doodle for Google winner, and to award her with a certificate and a backpack full of prizes. Despite school already being out for summer break, her classmates were present to help her celebrate.
"I'm still in shock," Madalyn said. "I didn't expect that to happen whatsoever. I was really confused (at first), but it's really crazy and exciting."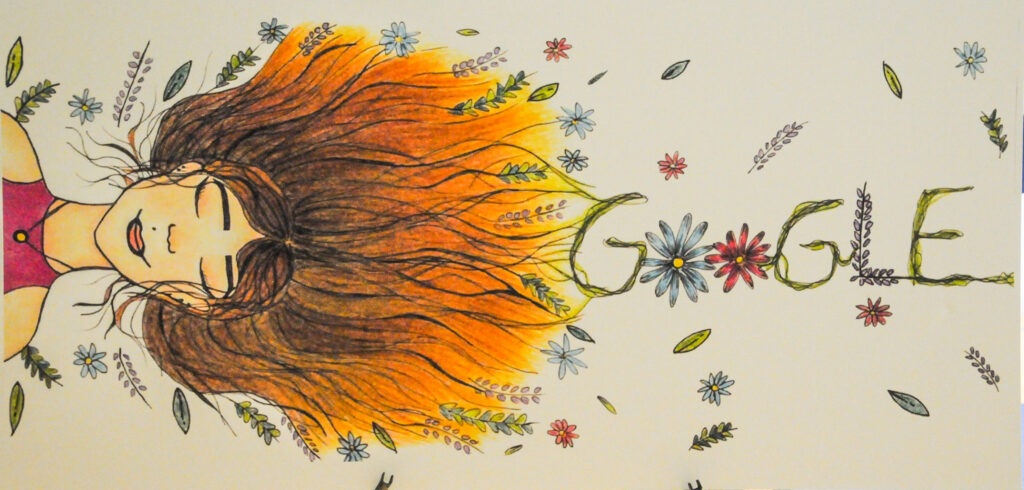 Madalyn is one of 54 state and territory winners in the 14th annual Doodle for Google competition, a contest where K-12 students across the United States have the opportunity to create their own version of the Google logo inspired by the prompt "I care for myself by…." Madalyn's doodle, "Photosynthesis (Blossoming into Me)," was selected as Indiana's winner from thousands of entries.
"My inspiration was growing into who you want to be and figuring out who that is," she said. "So, I thought using flowers and leaves coming from me really shows the development of sprouting into who I am now."
Madalyn's design moved to voting at a national level. The public could vote from May 26 through June 3 from the 54 state and territory winners, which determined five national finalists (one from each grade group). Google will announce the five national finalists in June.
Scott Morgan said he and his wife had to keep the secret for about a month. They were sitting on the couch when they received an email alerting them that their daughter won the contest in Indiana. He is a middle school math teacher at St. Bernard, so he helped plan the surprise.
"Madalyn is a crier," he said. "So I wanted to give her a heads-up, so she wouldn't cry, but my wife wouldn't let me. … We weren't shocked (Madalyn won), but, wow."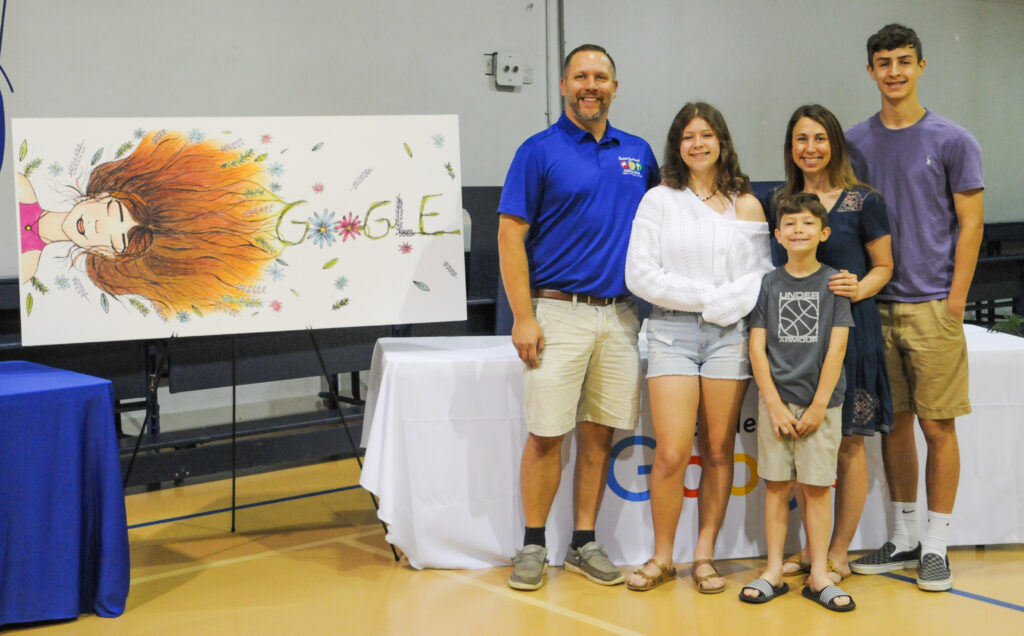 Morgan said his daughter has always loved and had a gift for the arts, whether it was musicals, plays, drawing or singing in church most Sundays.
"All of it is self-taught," he said. "She has not had any training on anything. She just loves it. That's all she does in her spare time."
"Even when I was little, I was drawing on the walls," Madalyn said with a laugh. "It's always been my whole life, all of the arts. Thank you to all of my teachers, friends and family who believed in me that I could do this."
Nowak said he's very excited for Madalyn.
"She's very talented, as you can tell from her drawing," he said. "Madalyn cantors a lot at church, so we knew she was very gifted musically; and lately, we've seen her artistic ability shine through. As I mentioned during prayer, she is great as far as using her talents for good and positivity. It's great to see her be recognized for this, and our school being the only Catholic school in Spencer County to be recognized on a state level."
During the reception, Nowak also presented St. Bernard teacher Chantae Hulsey, who introduced the contest to students, with a plaque from Google.
Melissa Patrick, brand ambassador for Doodle for Google, said it's awesome to see the surprise reception come together. 
"Google does this as a way to get kids interested in creating," Patrick said. "And they love to do a surprise to try to catch the kid off guard. … it's amazing."
The national winner will have their artwork featured on the Google homepage for 24 hours, receive a $30,000 college scholarship, and their school will receive a $50,000 tech package for the establishment or improvement of a computer lab or technology program.
To see a full list of state winners, visit https://doodles.google.com/d4g/.