By Tim Lilley
The Message editor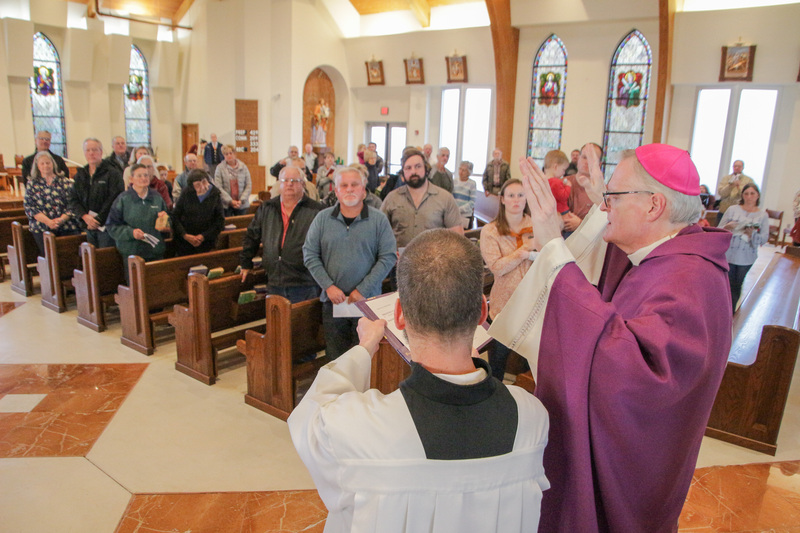 Large tractors surrounded the front of St. Clement Church in Boonville March 28, and they greeted the scores of farmers and gardeners from across the Diocese of Evansville who attended the 2023 Rogation Mass. The Diocesan Rural Life Conference organizes and sponsors the annual Mass. 
Bishop Joseph M. Siegel, who was born and raised on a family farm in Illinois, celebrated the Mass. Concelebrants included St. Clement Parish Pastor Father Jack Durchholz and Father Ray Brenner, senior priest of the Diocese of Evansville. Deacon Tom Lambert of St. Clement and Deacon Tom Cervone of Holy Redeemer Parish in Evansville assisted. Matt Miller, director of the Diocesan Office of Worship, assisted.
Attendees joined Bishop Siegel on the lawn between St. Clement Church and several large tractors to begin Mass by reciting the Litany of St. Isidore the Farmer and the Litany of the Saints – the latter as they processed into the church to begin the Liturgy of the Word. Large bags of seed and farm implements were situated in the narthex of the church and around the altar.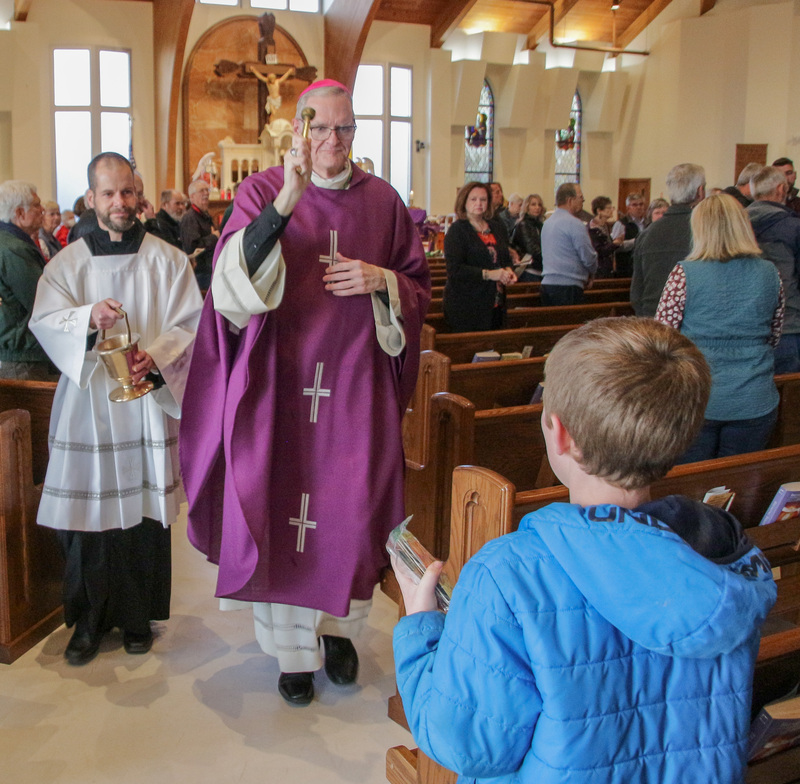 In his homily, Bishop Siegel noted that celebration of Rogation Masses dates to at least the fifth century, with first mention of a Rogation Mass occurring during that time in France. He said that the word rogation means to ask, with the Mass serving as an opportunity to ask God to protect farmers, their families and workers, and to provide good weather throughout the planting, growing and harvesting seasons, and bountiful crops. 
The bishop said that many people characterize farming as a hard life, but his father liked to say that it was a great life that included a lot of hard work. Farmers, he said, realize that it is God who provides the miracle of the seeds' rebirth as bountiful crops in fields across our diocese, and around the nation and the world.
In the midst of it all, God is with us, the bishop said. He is close to us. Like seeds, he concluded, we are called to die to ourselves in order to be reborn into a life of faith.
After the final blessing and dismissal, Bishop Siegel had attendees lift the bags of seeds and soil they brought to Mass for blessing. After offering the blessing, he made his way through the sanctuary sprinkling holy water on attendees, and their seeds and soil.
Father Jack announced that St. James Parish in Haubstadt would host the 2024 Rogation Mass on Thursday March 21.