Special to The Message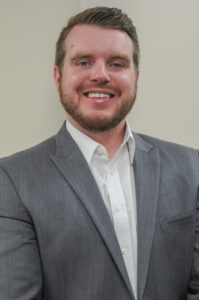 St. James School in Haubstadt has announced the appointment of Eric Chamberlain to serve as its new principal. 
Eric will take over the leadership of the school from Angie Johnson, who is retiring at the end of this school year.  Eric currently serves as Dean of Students at St. Benedict Cathedral School in Evansville.
Diocese of Evansville Superintendent of Schools Dr. Daryl Hagan said, "Eric's experience as a teacher and dean of students has prepared him well to lead St. James Catholic School. I want to take this opportunity to thank Angie for her years of dedicated service to our diocese. We look forward to welcoming Eric to St. James."
Eric earned a bachelor's degree from Indiana University in Bloomington and a Master's degree from Oakland City University in Oakland City.
He began his career in education in 2013 at West Elementary School in Mount Vernon. He joined the faculty of St. Benedict Cathedral School in 2015 as a social studies teacher. He was named Dean of Students in June 2019. His duties in that role have included serving as school-safety specialist and handling all state reporting for St. Benedict Cathedral School.
Eric said, "I am excited and honored to become part of the St. James team. I look forward to being a role model to the students, a servant leader to the staff and an active volunteer in a community so rich in faith and tradition."