By Megan Erbacher
The Message assistant editor
As Elizabeth Flatt searched online for face masks with cute patterns for her children, the principal of St. John the Baptist Catholic School in Newburgh got an idea for a unique way to celebrate Advent.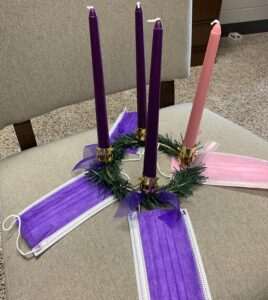 St. John faculty and staff returned to school after the Thanksgiving holiday to find purple face masks and an Advent prayer in their mailboxes from Flatt and assistant principal Alexandra Rexing.
Flatt said she wanted a way to embrace Advent in 2020, and when she stumbled upon the colored masks she thought purple and pink masks would be a great way to get in the Advent spirit. She said it was also a good reminder after the holiday break that we have entered Advent.
"Even though we're in the middle of a pandemic, it's important to remember that we are in the season of Advent and the waiting for Christmas. … This allows us just to take time to pause, reflect and pray as we prepare for the season," Flatt said.
This year, Advent is Nov. 29 through Dec. 24. Advent begins the Church's liturgical year, and it consists of the four Sundays leading up to Christmas.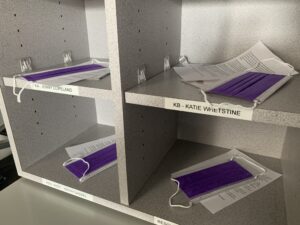 Flatt ordered about 50 masks for each of the three weeks school is in session during Advent. At the beginning of each week, Rexing said St. John faculty and staff will find face masks in their mailboxes – purple for the first two weeks of Advent and pink for the third week – along with an Advent prayer. School is out of session for Christmas break during the fourth week of Advent.
"With all of the challenges of teaching during a pandemic, Mrs. Flatt and I want to do what we can to help support the teachers and embrace our Catholic identity," Rexing said. "We thought this idea would be a way to offer our prayers for the teachers and also help support them on their spiritual journey during Advent. Since we all are wearing masks each day, we thought it would be a useful gift that everyone could use."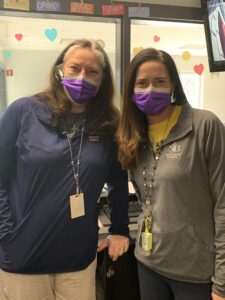 Teachers are being creative and incorporating other ways to celebrate the Advent season within their classrooms. This includes a schoolwide Advent service project in which the school community has adopted a family for Christmas. Some classes are putting together care packages for local nursing-home residents and frontline workers, and reconciliation will be offered for students. Advent candles are also painted on the front doors of the school, and one is "lit" each week.
"I am so proud of our teachers, staff, students and parents at SJB this year and all that they do to help our school during this time," Rexing said. "I truly feel blessed to be able to be part of our school community!"