By Megan Erbacher
The Message assistant editor
Both of Maria Janney's grandfathers, whom she never met, served in World War II. Janney explained that the war had a profound effect on both of her parents and their earliest memories.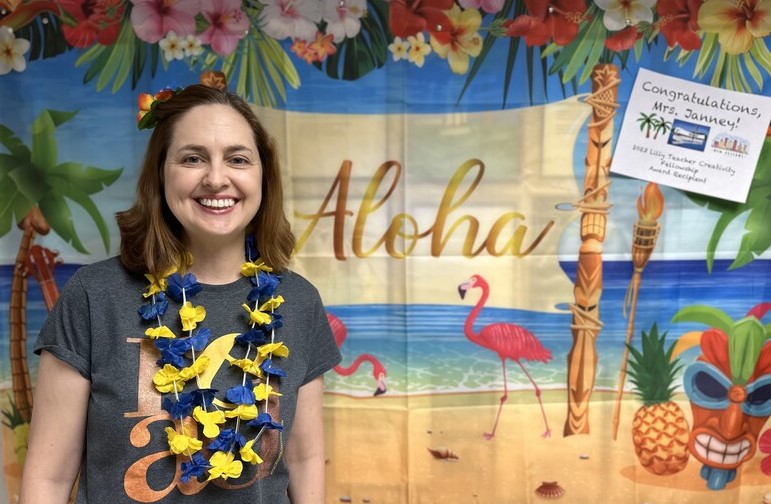 "My mother says that one of her fondest memories is the day her dad returned from the war," Janney said. "He came through the door, lugging his duffel bag, sat down in their kitchen, and took out a stick of Beechnut gum for her. Recollections like this begin to make the war personal, and I would like to continue to make these meaningful connections."
Janney will have the opportunity to learn more about WWII as part of the 2023 Teacher Creativity Fellowship program through Lilly Endowment, Inc. Earlier this year, Janney was one of 102 Indiana K-12 educators honored with a fellowship grant. She serves as High Ability coordinator and kindergarten through eighth grade High Ability Language Arts teacher at St. John the Baptist Catholic School in Newburgh.
Created in 1987, the Teacher Creativity Fellowship program awards each fellow a grant of up to $12,000 to fund personally and professionally meaningful activities to nurture their curiosity and renew their commitment to their profession.
Janney learned the news through an email she received on a Friday afternoon while teaching. Despite her excitement and surprise, she continued with "business as usual" until the school day was over when she shared the news with her colleagues.
Janney's proposal, "A Granddaughter's Journey: Uncovering the Heroism of World War II," focuses on developing a deeper understanding of WWII, which she hopes to share in her classroom. Over the next 15 months, through travels to Hawaii and New Orleans, Janney hopes to learn about the sacrifices many Americans made during World War II. She plans to capture her reflections in a book.
Janney's project includes reading, writing and traveling related to WWII. Her upcoming travels include a trip to New Orleans, home of the National WWII Museum, and Hawaii, which is Janney's 50th state to visit. In Hawaii, she plans to tour Oahu to see the Pearl Harbor Visitor Center, USS Arizona Memorial, Pacific Fleet Submarine Museum and the National Memorial Cemetery of the Pacific. From Oahu, she will fly to Hawaiʻi Island to visit Camp Tarawa, where 50,000 Marines and soldiers trained during WWII, including those who would later be honored at the Iwo Jima Memorial.
"This project is important to me because of the significance of so many Americans' contributions to WWII," Janney said. "Especially now, as these heroes are passing on, we need to keep their stories alive. Teachers have that responsibility to share their stories."
More than 3,500 Indiana educators, including the 2023 recipients, have received Lilly's Teacher Creativity Fellowship grants.
"Each day, Indiana's K-12 educators make extraordinary contributions to the lives of students and their communities," said Ted Maple, the Endowment's vice president for education. "We are truly inspired by the creative renewal projects of this year's fellows and look forward to seeing how their experiences strengthen their commitment to the education profession."
Janney has taught at St. John for 10 years. She hopes to gain a deeper understanding of WWII and its impact on 20th-century America, so she can bring a more personal understanding of WWII back to her classroom and be a stronger resource for her students.
"My high-ability students are naturally curious and interested in history," she said. "I will be able to teach to the deeper level that they crave."