By Megan Erbacher
The Message assistant editor
About four years ago, in her early 80s, Mary Mayer discovered a new talent as she was writing to her prayer partner from St. Joseph School in Vanderburgh County.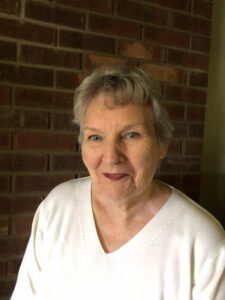 Since it was discouraged to send gifts to prayer partners, Mayer decided to send something special in addition to her monthly letters: poems. So, with every letter she also writes and sends a poem; sometimes she also draws pictures to accompany it.
Now, Mayer has a collection of more than 90 poems. She was a bit surprised by her talent, she admitted. While she's always enjoyed telling and writing stories, putting them into poetry was different for her.
"Although I thought I was doing it for (my prayer partner), it was really good for me," Mayer said. "I enjoy putting my thoughts into poems."
Mayer and her husband, Joseph, have been parishioners of St. Joseph Parish in Vanderburgh County for more than 60 years, and their five children attended St. Joe School.
Inspiration for Mayer's poems comes in various ways, including from daily life and children, to animals and spiritual life.
"I'm 85-years-old, and I have lots of memories to draw on," she said. "I've been a teacher, a student, a patient, a nurse; I've been so many different things. There's just a wealth of things to draw on."
Becky Smither describes her mom as a "soft-spoken, sweet-tempered woman, but when she reads a book, tells a joke or reads one of her poems, she dramatically takes on the role of the characters." 
This spring, Mayer read some of her poems to the Holy Rosary Senior Group with her husband and their daughters in the audience.
"As (the Holy Rosary Senior Group) leaned forward in their seats, the audience felt like they were right there with the character," Smith said.
"The ones I like best are the ones that allude to a mother's love, or the bond between a man and woman married for a long time – or the faith of a person who believes in God," Smither said. "She puts into words feelings that well-up inside me, where I get all choked up and feel like crying."
With the help of her daughter, Mayer hopes to one day share her newfound talent in a book with proceeds to benefit St. Joe School. Smither types her mother's handwritten poems for her and has them stored safely on a flash drive.
"My poetry tickles me," Mayer said. "It gives me so much joy. I'd love to share it with other people."
"I call her the Grandma Moses of Poetry and am proud to share her talent," Smither said.
Golden Years
I don't know, where is this gold?
I don't find much fun in growing old.
Overnight new wrinkles appear,
My eyes grow dim and I can't hear.
These teeth aren't mine
That's in my mouth;
And everything else
is going south.
My hair on top is getting thin
But grows abundantly on my chin.
I forget a lot and I'm not alert.
My muscles ache and my knees hurt.
Where is the gold
They talk about.
Please tell me now.
Please help me out.
You are a bank of wisdom
And a reservoir of truth.
A reminder of the history
That may be forgotten by the youth.
Your prayers are so potent
Blended with your tears.
You are here to share your lessons
Experienced through the years.
You are here to show how God
Sustained you, in the evening of your life.
So the gold is not for you to have,
But for youth that's yet to deal
With strife.
You are the proof of prudent living.
You are the gold of longtime friends.
Your faithfulness is classic
Of love that never ends.
Your life is a gift, not only for you,
But for the young to look up to.
That dang ol dog
I got this dang ol dog when I was small
He was the dangest dog you ever saw
He wouldn't sit, and he wouldn't stay
And when I called him he'd run away
Dang ol dog
He wouldn't mind a word I said
He chewed up my toys
And he claimed my bed
Dang ol dog
He'd wiggle all over when I'd come in
Be all over me and lick my chin
That dang ol dog
Well it came time for him to go
By then, I loved him so
That dang ol dog
Nature Speaks
A busy squirrel
has said to me
by the flurry of 
his activity.
It's that time again
when I must store
food and stuff
for the winter's tour.
The birds  also
speak to me
as they fly off
and leave their tree.
What's that old tree,
"Are you talking to me?
"I'm starting to see
a change in you.
Your leaves have changed
to a lovely red
dressed to dance
but fall to the ground instead.
The branches are now bare
As they reach toward the sky
They reveal a secret nest
to the public eye
Listening closely to what
nature has said,
I add more blankets
to all our beds.
I get out sweaters,
coats and hats.
I'll make a warm shelter
for our dogs and cats.
Winter is finally no longer 
cold and bleak,
I anxiously look forward
to hearing nature speak.