By Tim Lilley
The Message editor
Editor's note: The Message will publish the full list of St. Maria Goretti Youth Distinction honorees in the March 25 issue.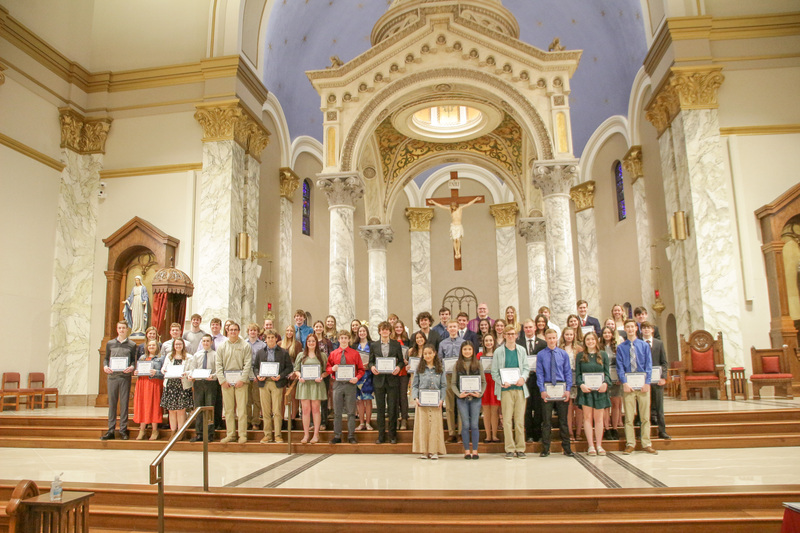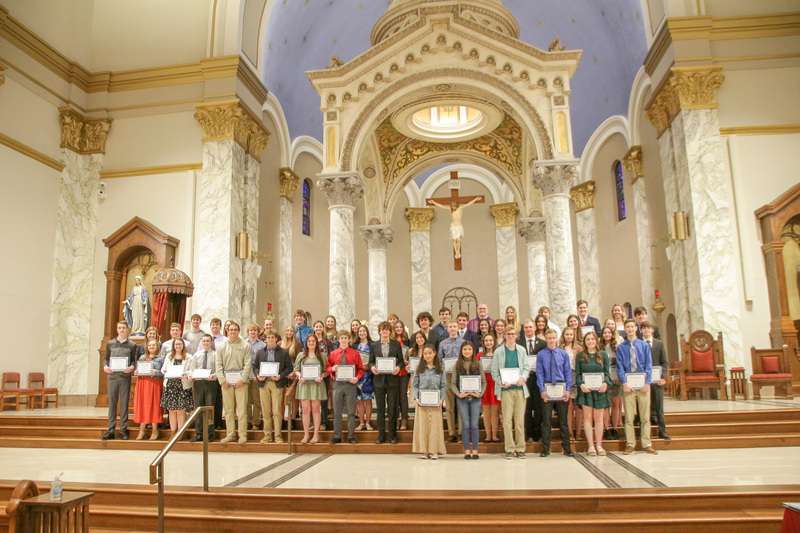 St. Benedict Cathedral in Evansville hosted the 2022 St. Maria Goretti Youth Distinction on March 13. Bishop Joseph M. Siegel concelebrated Mass with 18 priests of the Diocese of Evansville, then recognized 56 young people from across the diocese for their outstanding contributions to the life, mission and ministry they provide to their family, parish, school and community. 
Honorees Nicole Payne of St. Benedict Cathedral Parish in Evansville and Matthew Hayden of St. Peter Parish in Linton served as lectors. Honorees Samantha Cain of Holy Name Parish in Bloomfield and Jack Martin of St. Philip Parish in Posey County served as gift bearers.
Bishop Siegel encouraged the honorees to always look to St. Maria Goretti's examples of faithfulness and courage as they face struggles in their lives. He noted that St. Maria believed she was privileged to be loved by God and to be able to love him in return no matter what.
Bishop Siegel talked about the gospel reading of the day – Luke's account of Jesus' transfiguration on Mount Tabor – noting that he took three apostles with him in order to give them a glimpse of his divinity through the witness of Moses and Elijah. As in Christ's baptism in the Jordan, the bishop noted that God the Father's voice – saying, "This is my chosen son; listen to him" (Luke (9:35) – affirms who Jesus is and what he is about.
Bishop Siegel talked about our world today, which is full of instant gratification. He explained that Jesus' ministry and passion offer the best witness of all that we will face challenges throughout our lives, but will overcome them if we follow the way of the Lord.
Using the example of Peter, John and James – the apostles who witnessed Jesus' transfiguration – Bishop Siegel said that, when they realized Jesus was the Messiah, they immediately wanted to experience his glory and power. Ultimately, they learned that Jesus' glory would come from obedience to his father's will – including his death on the cross.
Bishop Siegel said that we all must accept our crosses with the knowledge that Christ is beside us, believing through our faith that those challenges will transfigure us. Only in Christ, he added, will we find real peace and lasting joy in our lives.
As he concluded, Bishop Siegel congratulated the honorees and affirmed that their families, parishes and the diocese are proud of them. He offered the wish that St. Maria pray and watch over them in the years ahead. 
Immediately following Mass, Bishop Siegel presented individual awards to the 56 honorees and, as he concluded, blessed the group and thanked them again for all they have done in their families, schools, parishes and communities.