By Tim Lilley
The Message editor
Speaking to hundreds of alumni and friends Oct. 15, the leadership of St. Meinrad Seminary and School of Theology laid out a plan to "build a Church for the future."
Archabbot Benedictine Father Kurt Stasiak and Benedictine Father Denis Robinson, President-Rector of St. Meinrad Seminary and School of Theology, provided an update on enrollment and programs at the Spencer County archabbey.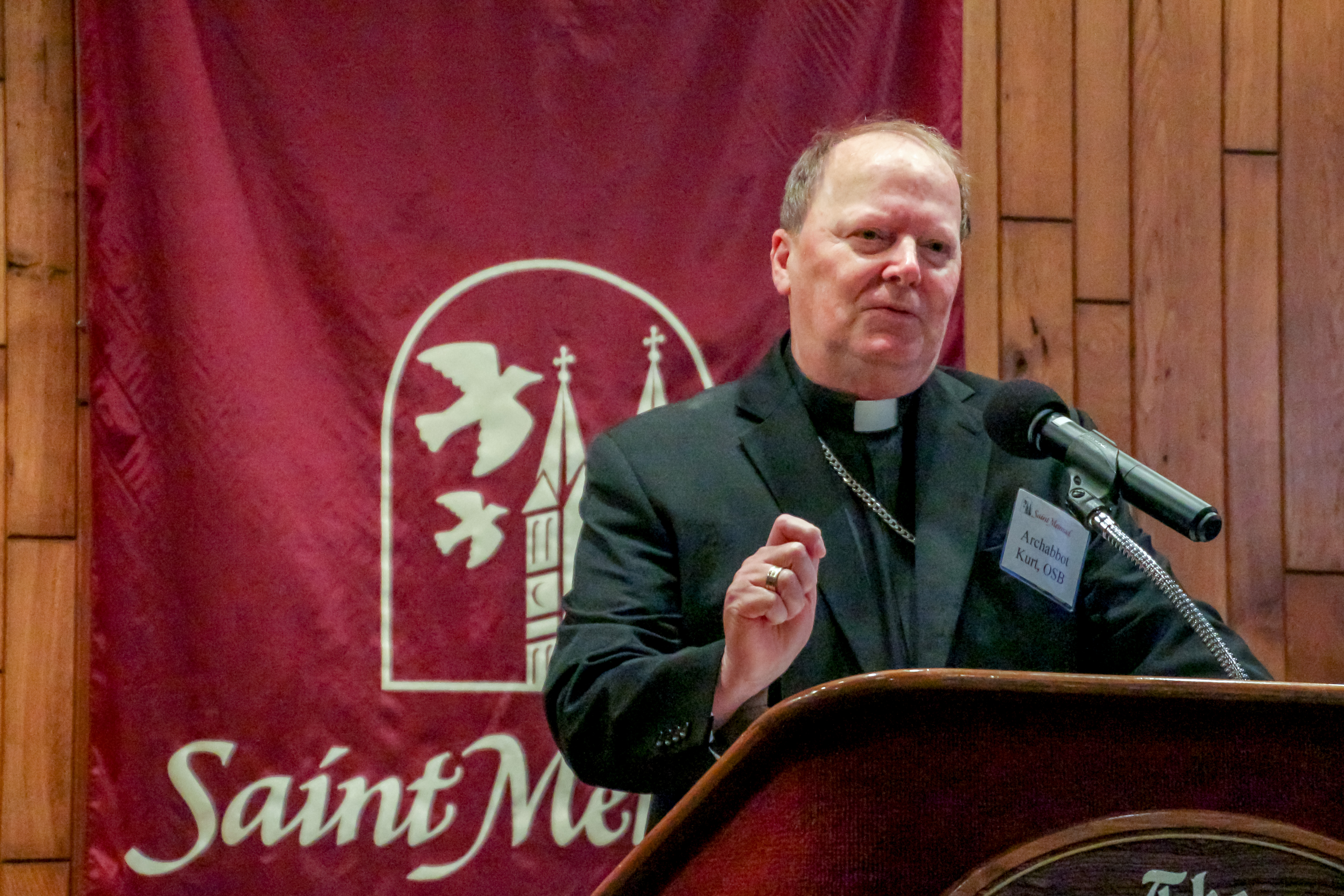 St. Meinrad Vice-Rector Benedictine Father Tobias Colgan welcomed everyone and introduced Archabbot Kurt. He reported that six men, all in their late 20s or early 30s, professed solemn vows over the past 13 months. He said, "A good number of them are moving on to graduate studies in different areas."
The Archabbot also thanked those in attendance for their support. "We are grateful for all you do for us, day in and day out," he said.
After dinner, Father Robinson led a presentation on the present and future of St. Meinrad.
● He reported that 122 seminarians are enrolled this year from 27 dioceses in 15 countries, noting that their average age is 29.
● He noted that more and more people are enrolling for online studies in graduate theology, suggesting that trend would continue.
● He reported that 141 are enrolled in studies for the permanent diaconate, up from 93 last year. He also said that St. Meinrad is ready to launch a new Spanish-language training program for the permanent diaconate.
● Father Robinson noted that the One Bread One Cup program for young people is celebrating 25 years, and he discussed the archabbey's young adult initiative, which targets young adults ages 25-35. "We focus on finding ways to keep young people involved in the life of the church," he said.
● He reported that, in its 20th year, the St. Meinrad Institute for Priests and Presbyterates welcomed 78 participants from 37 dioceses.
● He explained that St. Meinrad Guest Services interacted with more than 8,000 people last year who were attending retreats or otherwise spending time at the Archabbey.
Father Robinson then discussed ways that St. Meinrad is looking to the future. "We are preparing people not only for working in the Church today, but also for working in the Church of (the year) 2070," he explained. "St. Meinrad has a vision for the Church of the future."
That vision includes three projects that he discussed in more detail. The first is a plan for a "Pre-Seminary Year" of study for those discerning entry into the seminary. Father Robinson explained that the Archabbey is waiting on recommendations from the U.S. Conference of Catholic Bishops and final
approval from the Vatican, adding that the plan is ready for implementation – subject to those recommendations and approval.
He then talked about "Benedictine Arts," a program that will position St. Meinrad as a go-to home of resources for dioceses and parishes. It will include consultation services for parishes and dioceses working on the renovation of worship spaces. It also will include the launch, probably sometime in 2020, of a Chant Institute focusing on chant and liturgical music. Benedictine Arts also will offer sacred art and iconography, and other products.
Finally, Father Robinson talked about the new St. Meinrad Center for Youth Evangelization, which will include One Bread One Cup and the Young Adult Initiative. Leadership is looking at the concept of offering OBOC franchises to dioceses and parishes. The center also will offer academic support, a research and development area, and a practical area. "It all focuses on where we hope to take the Church of the future," he said.
"Everything we do at St. Meinrad is because of your support, encouragement and challenge," Father Robinson said. "You are participating in our building a Church for the future."
Bishop Joseph M. Siegel then spoke briefly before leading the evening's closing prayer. He thanked everyone at St. Meinrad for all their efforts to form ministers in the local Church. He added, "We all pray and hope that the good words of St. Meinrad will continue for generations to come."