By Megan Erbacher
The Message assistant editor
Habitat for Humanity of Evansville dedicated the newest home located in St. Theresa Place in Evansville Sept. 30. It's the seventh completed house in the 14-home Habitat subdivision in the Diamond-Stringtown neighborhood.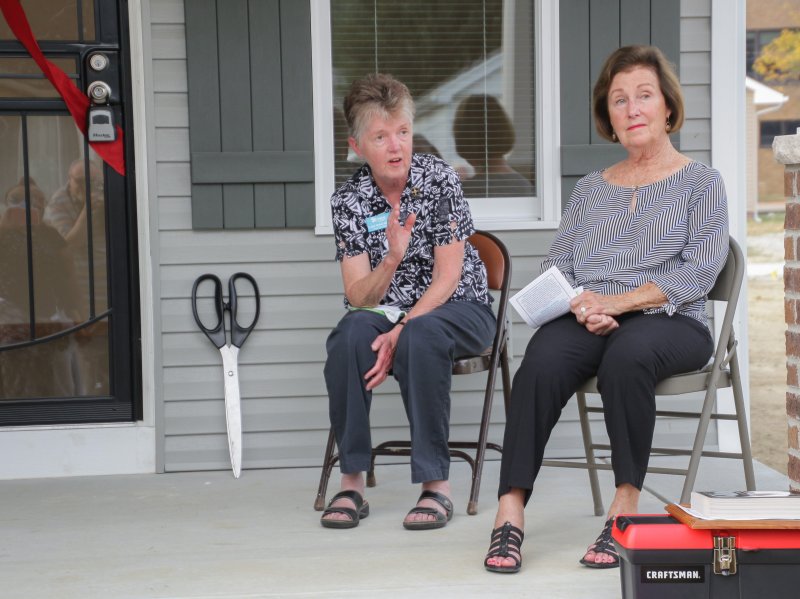 The new homeowner asked to remain anonymous.
Ground was broken for St. Theresa Place in August 2020. The subdivision shares the land formerly occupied by St. Theresa Parish with the new home of Catholic Charities.
Benedictine Sister Jane Michele McClure, Habitat Evansville major gifts officer, said the milestone of being halfway to the completion of St. Theresa Place is thanks to Habitat advocates.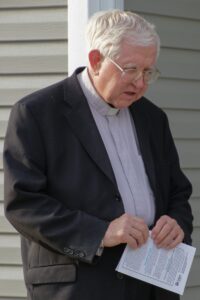 "You are proving over and over again that the spirit of St. Theresa is alive and well, and that you are continuing to be the hands and feet of Christ by providing decent shelter to those in need," she said.
Beth Folz, executive director of Habitat Evansville, welcomed everyone who gathered in the front yard for the dedication. Folz introduced Father Ted Tempel, senior priest of the Diocese of Evansville who served as pastor of St. Theresa, who offered a prayer and blessing.
Father Ted thanked God for his blessings, and he asked for a special blessing of the house. 
"We pray you will send your angels to watch over this house, keep it safe from all natural disasters," he said. "We pray you will bless the family, who will make this house their home. We pray they will always grow in love for God and love for one another.
Father Ted also offered special thanks to Habitat's Core Crew for their labor and to Nancy Traylor and Pat O'Daniel who sponsored the home.
Traylor and O'Daniel have been friends for 55 years and became companions after both of their spouses passed away. Traylor recalled when Father Ted sent a letter seeking house sponsors, and it just felt right, so she and O'Daniel were happy to say yes. 
"I'm so happy that we did, and we can provide this house for you," Traylor said. "Everybody wants their own home. It's the American dream, right?"
O'Daniel added that Father Ted can be "very persuasive," but he's a "jewel of a person."
"It's nice to have a dedication where you meet the people who will live here and a few of their family members," O'Daniel said.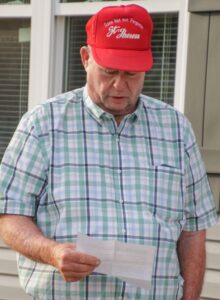 Wearing a red hat with the words "Gone but not forgotten St. Theresa" embroidered on it, Tom Baumgart represented the St. Theresa Place Advisory Council at the dedication. The council consists of more than 30 former St. Theresa parishioners and graduates, civic leaders and neighborhood champions who are dedicated to preserving the 70-year legacy of praying, working and playing together, which characterized the St. Theresa community.
Baumgart said his prayer for the new homeowner is that their home is more than just a place to live.
"I wish you peace, fellowship with your neighbors, love and faith from all who enter here," he said.
Baumgart was thankful when he learned the land where his parish was located for 66-years would be used for a Habitat subdivision.
"So the rest of my life, I don't have to drive by a weed-filled lot," he said.
This house is the 544th Habitat home built in Vanderburgh and Posey counties.