Special to The Message
St. Vincent Early Learning Center recently received a $40,000 grant from Early Learning Indiana to "Come Back Stronger" from the coronavirus pandemic.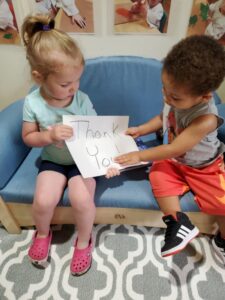 The grant is part of a statewide $15 million Come Back Stronger Fund, supported by Indianapolis-based Lilly Endowment Inc., to reinforce Indiana's supply of high-quality early-learning opportunities, especially for the state's most vulnerable children.
St. Vincent ELC plans to use the grant to support safety-related expenses and challenges as it continues to serve families in the wake of the coronavirus.
Valerie Bostick, St. Vincent ELC executive director, said the health and safety of children, families and staff is the center's top priority.
"In order for our community to come back stronger from the pandemic, high-quality child care is extremely important," Bostick said. "We are committed to supporting families who need child care by providing a safe, fun and educational environment that helps children thrive."
St. Vincent ELC will use grant funds in three areas: PPE equipment and supplies needed to mitigate potential exposure to COVID-19; temporary staffing to enable support for COVID-related mitigation efforts; and learning materials and equipment to allow for more social distancing and less sharing of items and spaces.
To be eligible for the grant, the nonprofit submitted a narrative on how it would use the funds to serve children from vulnerable populations, as well as meet the following criteria:
Be a licensed and registered center, ministry or family childcare home provider in Indiana in good standing

Be an approved CCDF, On My Way Pre-K provider or a provider that otherwise serves children from vulnerable family populations, defined as households at or below 200% of the Federal Poverty Level

Operate as a Paths to QUALITY™ Level 3 or 4, or as a Paths to QUALITY™ Level 2 with a demonstrated commitment to achieving a higher level of program quality

Serve children ages newborn-5
Founded in 1918, St. Vincent ELC is accredited by the National Association for the Education of Young Children (NAEYC) and has a Paths to Quality Level 4 rating — the highest level — from the state of Indiana.
In the first round of grants, Early Learning Indiana awarded a total of $2,341,000 to 155 child-care providers. The nonprofit's president and CEO, Maureen Weber, said the pandemic has highlighted the critical role early care and education providers play in our society.
"Families need quality child care in order to go back to work, and children need safe and engaging environments to grow and learn," Weber said. "We're grateful to St. Vincent Early Learning Center's commitment to providing high-quality child care, and we're excited to see what they and the other 154 providers do with their Come Back Stronger Fund grants."
For more information on St. Vincent ELC, visit stvincentearlylearningcenter.org.
To learn more about the Come Back Stronger Fund, visit earlylearningin.org/comebackstronger.