BY MEGAN ERBACHER
The Message assistant editor
Sixty-two percent of licensed foster families turn away children younger than school age because of childcare limitations, according to a poll conducted by the Evansville-based Borrowed Hearts Foundation. Sarah Gough, executive director of the nonprofit, said because many foster parents have day jobs, they don't have a place to send their foster kids.
Borrowed Hearts is addressing that need by opening Little Hearts Clubhouse, a registered childcare ministry for foster families, on Evansville's north side. The goal is to open Little Hearts Clubhouse in January, Gough said, if they receive all necessary funding. The daycare will be available to foster families at an "extremely discounted rate."
Gough and her husband have adopted five kids: one girl, who is now 18, and four boys ages 3, 4, 6 and 7. Gough started Borrowed Hearts in November 2015 after realizing the need for clothing among foster families.
"Most kids often only have the clothes on their back or clothes that are the wrong size or season," Gough said. "So I just started trading clothes with other foster families and then suddenly my garage was totally full and we couldn't park in there anymore."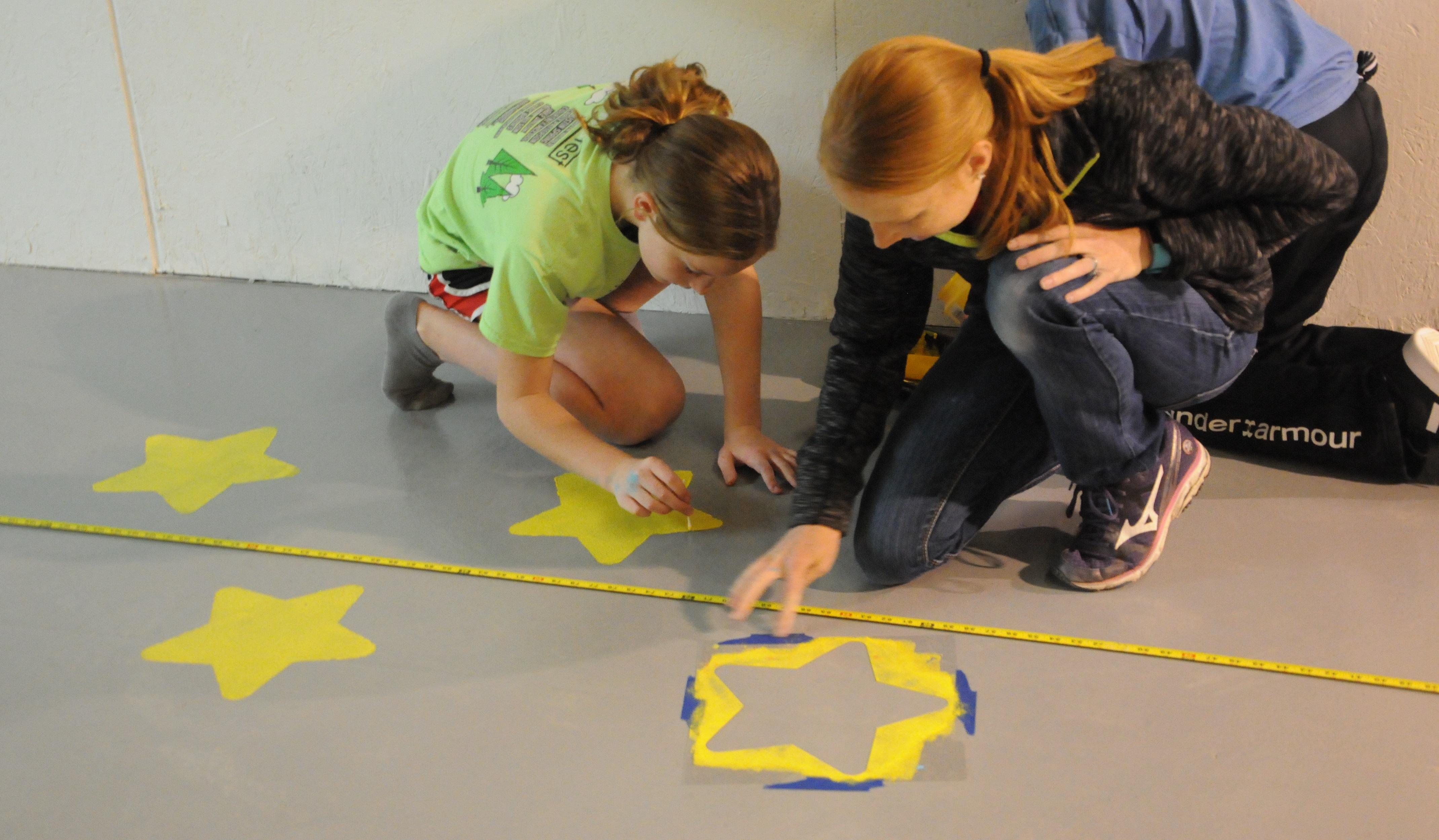 This year, when St. Wendel School sixth-grade teacher Amanda Cadden mentioned the needs at Borrowed Hearts and among foster families, her students wanted to devote the annual class service project to creating an indoor play area for Little Hearts Clubhouse.
The class researched materials they would need and received a Youth Resources Make a Difference grant of $266.75. Cadden said her students wrote the grant proposal themselves, with only a little guidance from her. The class also held a car wash earlier this year and raised another $585 for the project.
On Oct. 25, students worked on cleaning the future Little Hearts Clubhouse building, donated by Flanders, and gave it a fresh coat of paint. They also used stencils to paint different shapes on the floor, including red crabs,
blue horses, black penguins, blue butterflies and green frog feet. The shapes will serve as a self-regulation course, Gough explained, where kids will do the bear crawl, then jumping jacks on gold stars, gallop like a horse or waddle like a penguin.
"These (St. Wendel) kids pretty much sponsored this room themselves," Gough said. "It's amazing. It makes me want to cry every time I think about it."
In the spring, Cadden said her class will revisit Little Hearts Clubhouse to meet the daycare kids.
"Service, in general, is important because they have to realize that there's more than them in the world; seeing that we can make a difference," Cadden said. "And our school mission is 'We learn. We serve. We are Christlike;' it's the center of our school."
As St. Wendel sixth-grader Caroline Breeden painted a gold star, she said students simply wanted to help. Breeden, 12, said they also bought some playground equipment.
"Since there are so many (kids) in foster care and a lot of parents have fulltime jobs, they don't have the time to take care of them all day," she said. "It will be a good place to take the kids."
Sixth-grader Emily Kiesel, 11, said the class also purchased foam mats and pieces for kids to play with and rolling tubes they can crawl through.
"The parents don't have all the money to provide all of this," Kiesel said. "I feel like (our help) makes their day; but it also makes our day because it brings light to us both."
For more information on Borrowed Hearts or to sponsor a Little Hearts Clubhouse room, visit www.borrowedheartsfoundation.org/ or the Borrowed Hearts Foundation Facebook page.