By Livia Wight
A View from Campus
It is Saturday, Oct. 12th, as I write this. Two University of Southern Indiana college women are involved in the last-minute planning for a late-night breakfast that will happen after the midnight Mass tonight.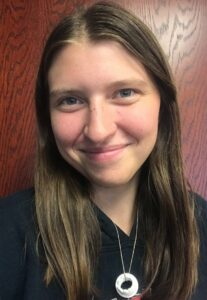 A midnight Mass in October? What is happening is the canonization of Blessed John Henry Cardinal Newman. Since the canonization will take place in Rome, the students have planned a late-night Mass and breakfast prior to a "watch party," which will begin at 2:30 a.m. Sunday.
The gathering of 30-plus University of Evansville and USI students, alumni and seminarian interns was great! Since Rome is eight hours ahead of Evansville time, the canonization Mass began at 3 a.m. local time. Only college students would think of such an event! Father Luke Hassler graciously agreed to be our celebrant for the midnight Mass, and he gave a wonderful homily on Newman and his contributions to the church.
St. John Henry Newman is the patron saint of Catholic college ministry. He was particularly interested in college students continuing to grow in their Catholic faith as they grow in their knowledge and studies in other subjects.
He was born in 1801. At the age of 15, St. John Henry Newman enrolled in Trinity College. On June 13, 1824, he officially became an Anglican deacon and would continue as an Anglican deacon until 1841 when he published "Tract 90." The purpose of "Tract 90" was to settle the question of whether the Church of England was in fact Catholic rather than protestant.
This caused controversy among readers of his work and Oxford University. Over the next two years, St. John Henry Newman began distancing himself from the Anglican religion and moved towards joining the Catholic Church. He was confirmed Catholic on Oct. 9, 1845, and was ordained a priest just two years later in 1847.
For his conversion, Newman suffered broken relationships with friends and family; and attitudes towards him within his Oxford Circle became polarized. Anti-Catholicism had become a huge part of the culture since the 16th-century protestant reformation.
Newman went to Dublin as a rector of the newly established Catholic University of Ireland in 1854. During this time, he formed the Literary and Historical Society; and four years later, retired and published a volume of letters entitled "The Idea of the University," which explains his philosophy of education. He would go on to write and publish many works.
Despite the fact that St. John Henry Newman was neither a bishop nor lived in Rome, Pope Leo XIII named him a cardinal in 1879. While a Cardinal, Newman insisted on opposing "liberalism in religion," which he argued would lead to complete relativism. Newman returned to England and remained there until his death in 1890. His contributions to the Catholic Church left a legacy that will continue to live on for generations to come.
Pope Francis quoted Newman at the canonization Mass with the following words, "The Christian has a deep, silent, hidden peace, which the world sees not…. The Christian is cheerful, easy, kind, gentle, courteous, candid, unassuming; has no pretense … with so little that is unusual or striking in his bearing, that he may easily be taken at first sight for an ordinary man." May we all strive to be that Christian!
Livia Wight is a sophomore at the University of Southern Indiana and a native of Seattle, Washington. During this year's Easter Vigil, she was baptized and confirmed Catholic. She is a member of Resurrection Parish in Evansville.