By Tim Lilley
The Message editor
The St. Vincent de Paul Food Pantry in Evansville continues to operate as close to "business as usual" as possible in the wake of the COVID-19 outbreak. Food pantry manager Benedictine Sister Donna Marie Herr said the needs continue for staple food items like peanut butter, canned vegetables, canned fruit and other items.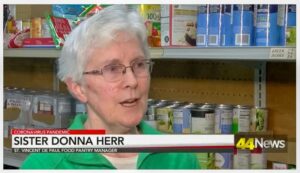 "We always need those," she said. "But right now, we also can use laundry detergent, dishwashing soap, all-purpose cleaners and hygiene items. We had been ordering those every two weeks, but our supplier is not accepting those orders at this time. We will be grateful to accept any of these items, as always."
Sister Donna Marie said that monetary donations also are welcome. Funds donated are used to buy perishable items like milk and eggs.
In an April 1 interview with WEVV-TV (44 News) in Evansville, she told reporter Megan Diventi, "There are people coming now that haven't been here in 600 days. So there's clearly evidence of people needing to come now that formerly weren't coming; so we are here to serve people that need help, and we understand the economic hardship that people are facing right now."
Sister Donna Marie told The Message that the pantry also is seeing new families at this time. She said that the number of requests for service has not increased dramatically in recent weeks, "but I know it's going to pick up."
If you wish to drop off donations at the food pantry, Sister Donna Marie recommends that you call first to let her and the volunteers know you are coming. "We have established social-distancing rules for delivering food to clients," she said, "and we encourage everyone coming in to be mindful of those guidelines. That's why it would be really helpful to call in advance.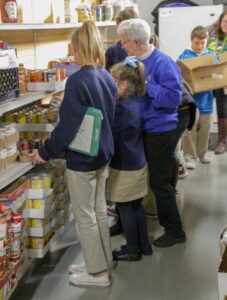 "We are so grateful for everyone who is stepping up to help out, and our clients are extremely appreciative that we're staying open," she added. "We have some volunteers who are not coming because they are in the higher-risk category, but we have others who have asked us to call them twice a week or more. They're able, and they want to help."
The food pantry is located at 809 North Lafayette Ave., Evansville, IN 47711. Call the pantry at 812-425-3485 to let Sister Donna Marie and the volunteers know you'd like to drop off donations.
If you know someone who may be in need, please note the following precautions now in place to keep volunteers and the community as safe as possible:
● No food referrals will be issued directly from the SVdP Food Pantry.
● Instead, all clients will have to call the Call Center at 812-401-0606. No exceptions.
● The Call Center will check eligibility and give that information to the SVdP Food Pantry.
● The client can then come to the SVdP Food Pantry with their ID and will be given food.