By MATT POTTER
RADICAL JOY — CATHOLIC STEWARDSHIP AND ABUNDANCE
A few weeks ago in this space, we shared some ideas with you about the stewardship concept of time. Today, we will look into talent.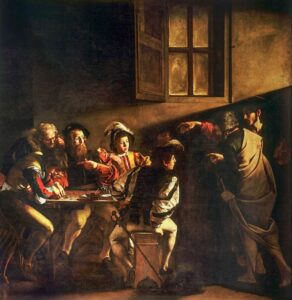 I have a print of a painting by Michelangelo Merisi da Caravaggio (1571-1610) hanging in my office. It's a digital reproduction on foam board, complete with a wrinkled corner from falling off the wall and striking the floor. "The Calling of St. Matthew" depicts Jesus and Peter visiting Matthew, calling him to follow Jesus.
I was first turned on to this painting by a friend of mine, Father Jim Heiser, pastor at St. Stephens Indian Mission on the Wind River Reservation in Wyoming. Years ago, he asked me if I was familiar with Caravaggio and this piece. When I answered in the negative, he sent me a text with a copy of the painting.
For more than a decade, I have included in my email the verse from Matthew's Gospel that describes how the apostle came to be called by Jesus in spite of his sinful past as a tax collector. "As Jesus passed on from there, he saw a man named Matthew sitting at the customs post. He said to him 'Follow me.' And he got up and followed him." (Mt 9:9) The Caravaggio painting depicts this moment, although the characters in the painting are dressed in the garb of Renaissance Italian men, not first-century Jews.
Notice that there wasn't any hesitation in Matthew's response to the call. Rather, he just got up from his place of comfort and followed Jesus.
In 2010, I heard the Lord call me to leave my business and go to work for the Church in Cheyenne. After an awful lot of prayer and discernment, I did just that.
I assumed I would spend the rest of my working days serving the Church in Wyoming, where I had lived for 35 years, raised a family and built a business. But God didn't place any parameters regarding the place and time for that work around his call, and my assumption was wrong.
Nine years later, I was called to leave Cheyenne and come here. So following a great deal of prayer and discernment, we packed up everything we owned and moved away from all we had known to serve the Lord in the Diocese of Evansville.
The last two years have been far from what I thought they might be like. Not better or worse, but different. Uncomfortable at times, being in a new place, meeting new people, then getting hit with all that the pandemic brought. But I take heart in the words of Emeritus Pope Benedict XVI when he said: "The ways of the Lord are not easy, but we were not created for an easy life, but for great things, for goodness…. Those who desire comforts have dialed the wrong number. Rather, he shows us the way to great things, the good, towards an authentic human life."
My wife and I asked God what he wanted from us. We listened and said OK, Lord, we are yours and will do what you want. We trust you.
I encourage you, dear reader, to ask God what he wants from you and what you can give to the Church, because the Church needs you. You have talents that can help grow the Kingdom of God, even if you don't realize it right now. Open your hearts to those opportunities that do appear. Trust the Lord and say yes.
Every time I look at that Caravaggio print and see Jesus pointing at Matthew, I see him pointing at me. In reality, he is pointing at all of us because that's what he wants – all of us.
As always, thanks for reading. I would love to hear from you. Write to me at [email protected]; Check out our blog radicaljoy.blog/.