Special to The Message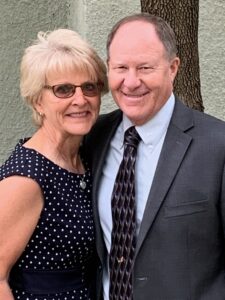 In 2013, Teens Encounter Christ volunteer Laura Litwiler invited coworker Dan Barnes to make a TEC retreat weekend. He felt so welcomed and strengthened by TEC that he invited his wife Terri to get involved as well. Since then, they have become a staple in the TEC community, always available to support any event in any way they can – providing bringing food or games, listening and praying, or networking with the many other amazing ministries that they are involved in. They rarely miss an event and are always so welcoming to those they meet!  
Dan says, "Terri and I experienced several miscarriages and also experienced the death of our only child, Danielle Marie. We learned that we have to use tragedies for something positive. We love it when younger people come up to us just to see how we are doing. We catch up with what is going on in their lives also. We feel blessed to be a part of the TEC community. TEC has had a huge impact on our lives." 
On July 18, Dan and Terri received the 2021 Spirit of TEC award. This award is given to an individual or pair of individuals each year who lives out the Paschal Mystery in his or her life; is committed to serving the Church and its youth and young adults; generously shares his or her love, faith, and enthusiasm with others; and has contributed to TEC in a significant way. There are so many incredible youth and adults involved in TEC and the Diocese of Evansville who are great candidates of this award; but this year, TEC is proud to be able to honor Dan and Terri for all that they do for TEC and the Church!
Let us ask little saint Danielle Marie Barnes to pray for all of us – that we transform the grief and sorrow in our lives into the passion and motivation to live our lives for Christ as Dan and Terri do. 
Past Spirit of TEC recipients include:
1995 Rick Etienne, 1996 Andie Herr, 1996 Diane Hildenbrand, 1997 Al Debes, 1997 Jane Leingang, 1997 Wileen Halter, 1999 Fr. Bernie Etienne, 1999 Janet Debes, 2000 Diane Fehrenbacher, 2000 Richard Burek, 2001 Mary Ann Zenthoefer, 2001 Philip Zenthoefer, 2001 Mike Eppler, 2002 Ed Tretter, 2003 Bruce Deer, 2003 Dennis Hilderbrand, 2004 Ed Wagner, 2004 Ron & Mary Balbach, 2005 Fr. Jack Durchholz, 2005 Linda Schmitt, 2006 Barb & Gary Gehlhausen, 2007 Chuck Coomes, 2008 Mariah Litwiler, 2009 Tom & Sara Kessens, 2010 Heidi Litwiler, 2010 Laura Litwiler, 2011 Becky Siewers, 2012 Sr. T Gunter, 2013 Fr. Jason Gries, 2014 Jeff Verkamp, 2015 Martha Schmitt, 2016 Brad Tretter, 2017 Hannah Sitzman, 2018 Brian & Joyce Gehlhausen, 2019 Leigh Anne Costlow
For more information about TEC, go to www.switec.org or email [email protected].