By Megan Erbacher
The Message assistant editor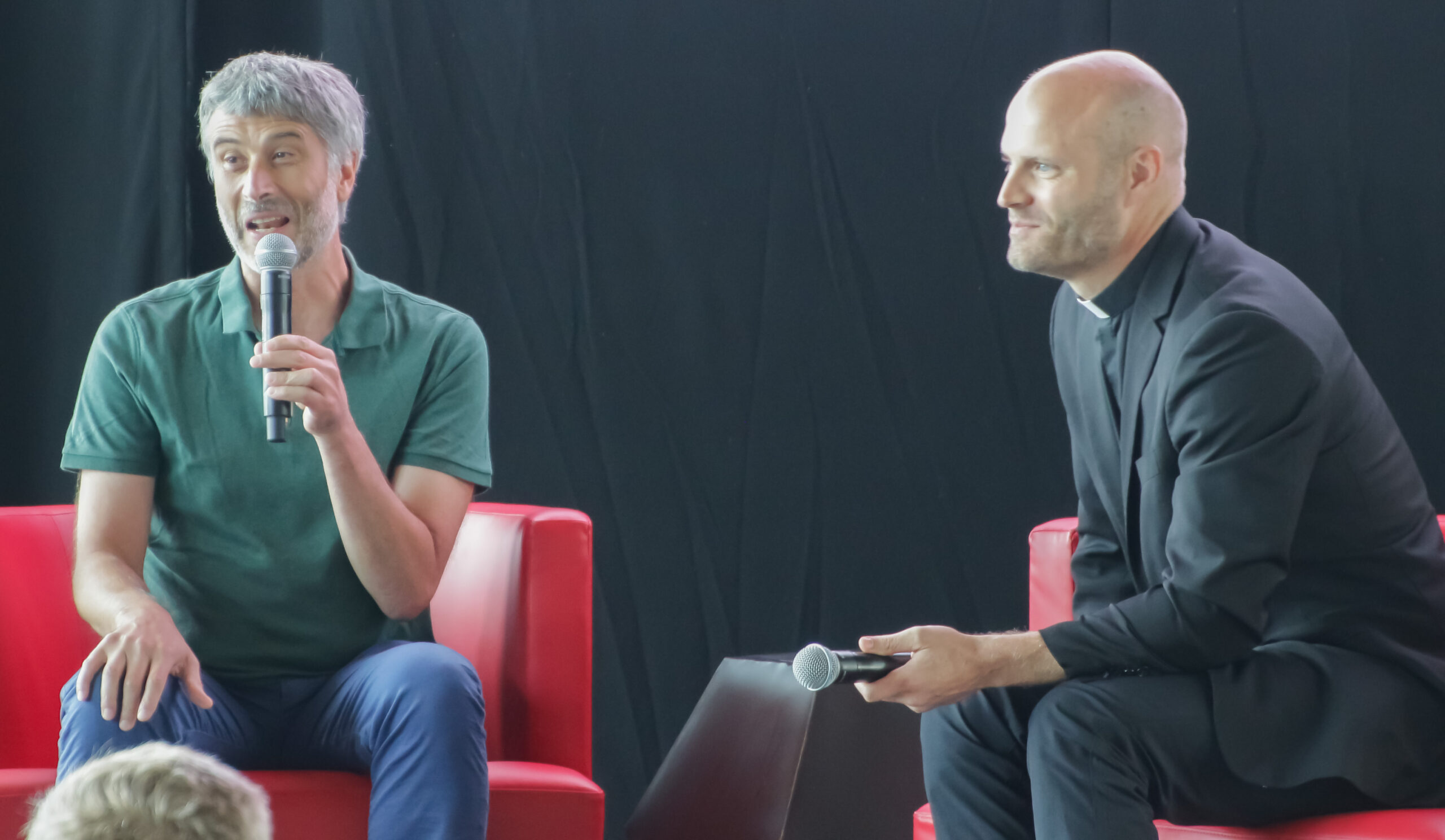 Mauro Prina, Director of Thermodynamics with SpaceX, advised Evansville Catholic high school students to take risks and continue to grow.
"Many times, I didn't take risks out of fear of what I could lose, but we're all in development," Prina said. "(Looking back), I would take more risks.
"Don't define yourself," he continued. "We are all in development, so don't lock yourself into something (for a career) because you might find something else. Don't box yourself in."
Prina delivered the keynote address at the 2023 Tomorrow's Work Force luncheon Sept. 21 at Bally's Riverfront Event Center in Evansville. Evansville Catholic high schools sponsored the program, which recognizes the 2023 Leadership Award honorees — 15 each from Mater Dei and Reitz Memorial — selected based on their essay, academics and community service.
Bishop Joseph M. Siegel offered the invocation before lunch. Bishop Siegel congratulated students for their hard work and accomplishments. He also thanked business and civic leaders for supporting Evansville Catholic high schools.
Father Christopher Droste, Pastor of St. Boniface Parish in Evansville and Priest Delegate to Mater Dei, served as moderator for the discussion with Prina.
A native of Italy, Prina is a lifelong learner and a man of profound faith. He currently resides in Texas, near SpaceX's Starbase launchpad. SpaceX is an American spacecraft manufacturer, launch service provider, and satellite communications company. Prina has served in several roles with SpaceX since 2007. Before SpaceX, Prina was a thermal engineer with NASA. He has his Doctorate in Philosophy and Mechanical Engineering from Politecnico di Milano and his Post Doctorate in Mechanical Engineering from the California Institute of Technology.
In response to a student-submitted question, Prina admitted his current workload makes attending daily Mass nearly impossible. He does attend Sunday Mass, and whenever he feels the need to pray, he prioritizes doing so.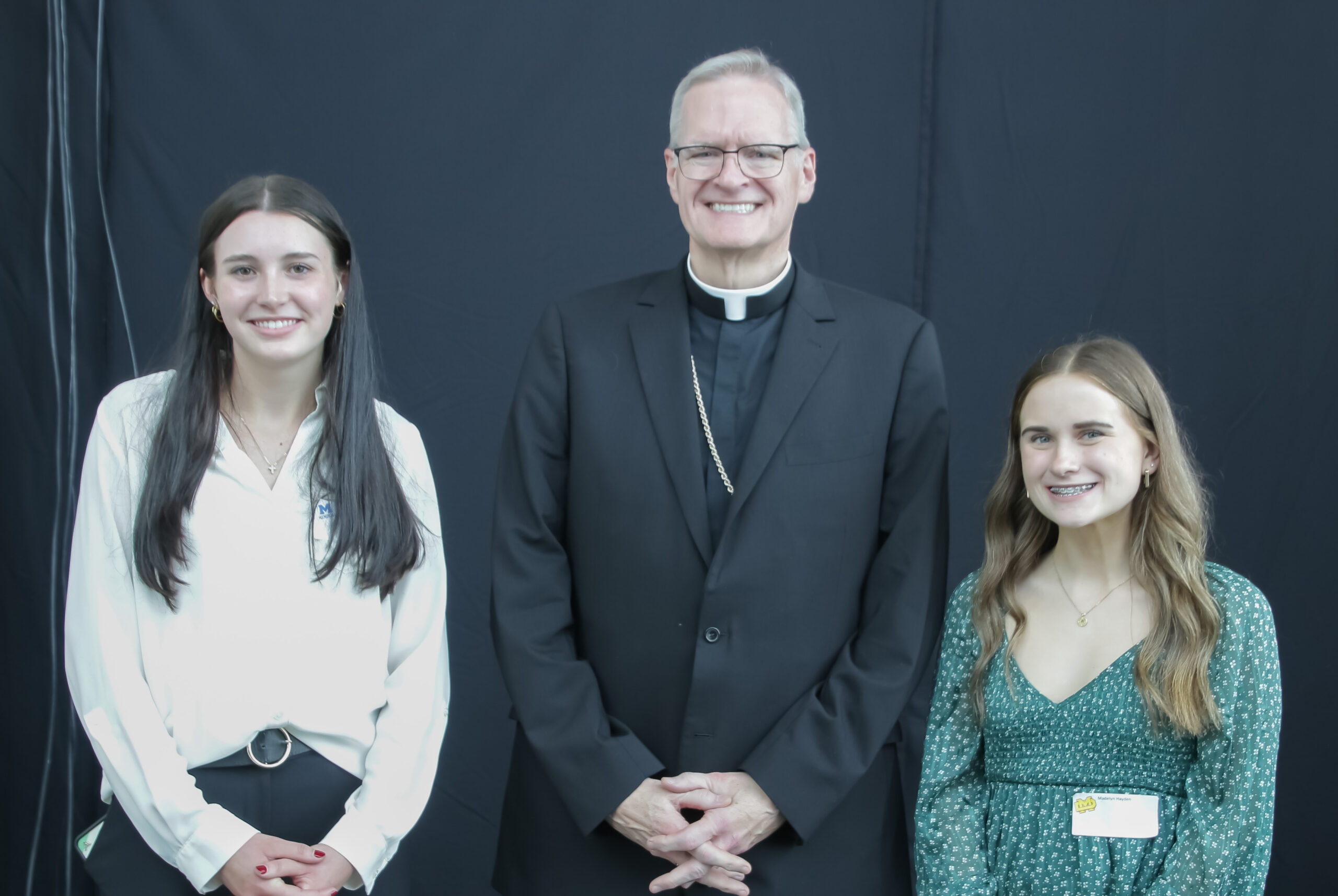 The Tomorrow's Work Force program awards a $1,000 college scholarship to one student from each high school. Mater Dei Principal Darin Knight and Reitz Memorial Principal Aaron Schmitt announced the scholarship recipients. They are Mater Dei senior Madelyn Hayden and Reitz Memorial senior Edie Sandefur.
Hayden keeps a 3.99 grade-point average at Mater Dei, is a member of the National Honor Society, Teen Advisory Council and volunteers at her parish. She plans to pursue occupational therapy or psychology as a career.
"The education and experience I have received from Mater Dei tremendously impacted my life," Hayden wrote in her essay. "From perseverance to leadership, I have gained valuable attributes that will benefit me for the rest of my life. These qualities have made me a more mature and responsible student, worker and teammate."
Sandefur maintains a 4.0 grade-point average at Reitz Memorial, serves as president of her class, secretary of the Key Club and is a member of the National Honor Society. She is interested in studying federal criminal investigation or criminal prosecution.
"Our experiences as adolescents mold us into who we are as we continue to navigate our journey into becoming adults," Sandefur wrote in her essay. "The support from my teachers and Tiger community in aiding my growth as an individual will always follow me, as well as the real-life experiences and abilities instilled within me during my time at Memorial."
The 2023 Leadership Award recipients are:
Mater Dei – Kaylee Bacon, Nicole Bender, Isaac Deeg, Kylie Frey, Madelyn Hayden, Blaine Herr, Ella Kane, Addison Kelley, Mallory Kempf, Cara Schlachter, Lily Smith, Wyatt Stratman, Courtney Straub, Lillian Traylor and Emma Van Bibber.
Reitz Memorial – Maxwell Brinkmeyer, Mallory Burger, Aubrey Flatt, Charlotte Fredrich, Ava Graber, Maggie Haggerty, William Hirsch, Laurel Kain, Meredith Meunier, Rowan O'Daniel, Elizabeth Onderak, Emma Payne, Ryan Pietruszkiewicz, Nathan Raben and Edie Sandefur. 
Since Tomorrow's Work Force started in 2001, sponsors have gifted more than $2 million to support Evansville Catholic high schools.