By Megan Erbacher
The Message assistant editor
Winter sports will look different this year for students at Catholic schools in Vanderburgh County with guidelines set to help minimize the potential for the spread of COVID-19. Diocese of Evansville Superintendent of Schools Dr. Daryl Hagan stressed the importance of creating the safest environment for student-athletes.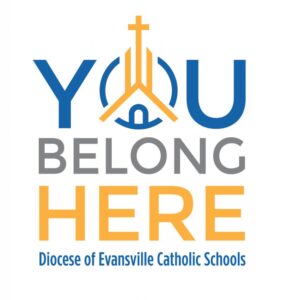 Basketball, wrestling, archery and swimming will go on as scheduled for Mater Dei and Reitz Memorial high schools, as well as their partner elementary and middle schools in Vanderburgh County; but significant attendance limits will be in place. Attendance at basketball games and two-school wrestling matches will be limited to two spectators per participant, including two fans per cheerleader.
The announcement was made Oct. 21 during a collaborative press conference that included Hagan, Evansville Mayor Lloyd Winnecke, and representatives from the Vanderburgh County Health Department and Evansville-area public and private schools.
For wrestling matches and archery competitions involving athletes from more than two schools , Diocese of Evansville Assistant Superintendent of Schools Michelle Priar said specific guidelines for those events are still being finalized. She said school officials will communicate plans once the details are worked out.
Mater Dei and Reitz Memorial will not have pep bands, and there will not be a student cheering section, also known as student cheer blocks. Schools will not offer concessions.
All safety protocols to mitigate the spread of the virus will be followed, according to school officials, including the requirement of face coverings and social distancing.
Hagan said that all diocesan Catholic schools have been strongly encouraged to follow the guidelines set forth for the schools in Vanderburgh County.
Hagan thanked staff, families and fans for their continued patience and understanding as school officials made the health and safety of students a priority.
"I am grateful for the collaborative effort and a common vision to educate students in the safest environment," he said. "I appreciate the ongoing efforts made during the fall season by our athletes, coaches and staff. I also appreciate the sacrifices made by our families and fans, who join us in our efforts to reduce the spread of this virus."
Priar expressed gratitude to school principals for staying connected during this unprecedented time.
"I'm pleased with the consistency in the communication between Evansville Catholic high schools and their partner elementary schools," she said. "I've been really proud of our principals for doing that. They try to stay in touch with one another so they can all be on the same page."
The Catholic Education Office urges everyone to continue daily self-screenings, including on the day of the sporting event, which includes checking your temperature, washing your hands often, and staying home if you are sick.