By Megan Erbacher
The Message assistant editor
Bill Shinn always gets emotional when he hears Johnny Cash's 1974 song, "Ragged Old Flag."
Shinn had tears in his eyes from that song on a sunny, warm November day sitting in his car after Mass at St. John the Baptist Parish in Newburgh.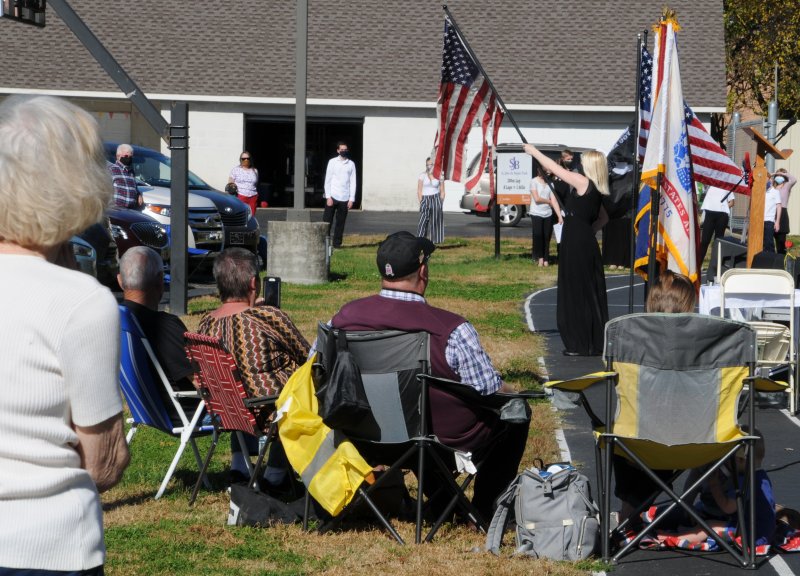 About 20 vehicles lined the parking lot behind St. John the Baptist School on Nov. 8 to celebrate veterans. Charlene Fiedler, St. John's coordinator of youth ministry, said the ongoing COVID-19 pandemic caused changes to the annual program. This year, the event was shortened and held outside with a carryout dinner from Golden Corral instead of eating together inside, like years past.
"I'm glad we could figure out a way to make it happen and that God has blessed us with great weather," Fiedler said. "We truly do love (our veterans) here at St. John the Baptist."
Around 20 students participated in the event, which included the National Anthem, Pledge of Allegiance, poem recitations and songs to honor each branch of the military. The POW/MIA table, which includes a single red rose and one chair, was set-up beside the stage in honor of the prisoners of war and those missing in action.
As the "Armed Forces Melody" played, veterans were asked to wave their hands out of their car window or to stand when the melody for their branch of the military played. Fiedler said that seeing the veterans stand and wave made her cry.
Shinn served in the army – one year on active duty and five years reserve. He said just thinking about Johnny Cash's "Ragged Old Flag" makes him tear-up. He always enjoys attending the annual veteran celebration at his home parish.
"It's an honor to be appreciated by the youth," he said. "I certainly thank them for all they've done to prepare for this ceremony. It's very meaningful."
Castle High School sophomore Justin Rauscher is Shinn's grandson. Rauscher, 16, participated in the event because he said it's important to recognize the veterans in our community. 
"We don't always see who they are," he said. "It's a good chance for us to realize that some of the people we see every weekend at Mass are veterans."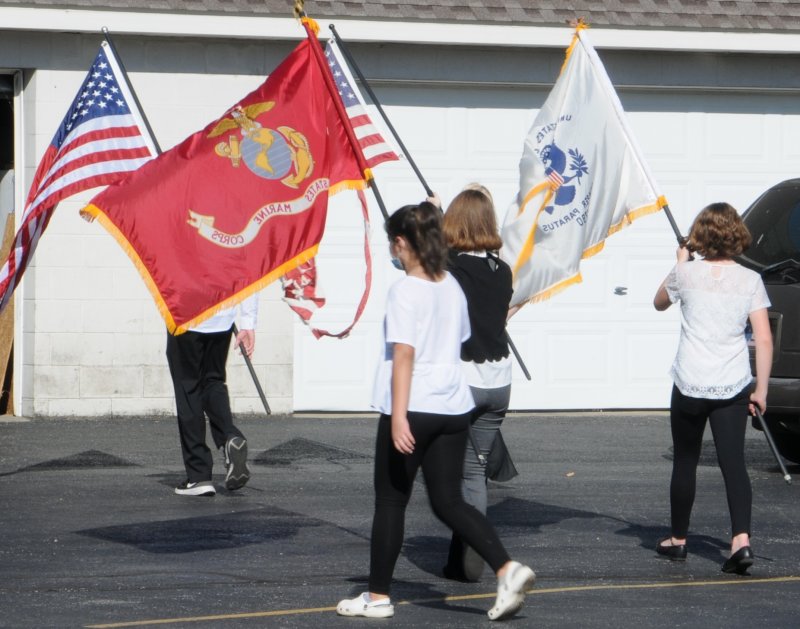 Meg Williams, a seventh-grader at St. John, knows many veterans in her family and friends of her family, including her two deceased grandfathers. Williams, 12, said her paternal grandpa served in the marines and her maternal grandpa served in the navy.
"It's important to honor them so they know how much we care for them," she said. "Their service is something that should not go unnoticed. It is the highest form of respect for our country that they could possibly do, and doing something like this (event) shows how much they deserve all our respect, and our reverence and our care for their service to our country."
The annual program is significant, Fiedler said, because she doesn't want veterans to feel forgotten. Fiedler isn't a veteran, but her dad served.
"When you think of the conditions these veterans were under while in our armed forces, the emotions they must have felt being away from their families and the fear they felt fighting against our enemies, it is the least we can do for them," she said.
Fiedler wants youth to realize everyone is indebted to veterans for our freedoms and our lives the way we enjoy them today.
"I want (students) to learn to respect (veterans) and serve them in appreciation for the way they previously served us and our country," she said. "I hope they can experience patriotism and love for our country by participating in the program and serving these veterans. I also hope for them to feel proud to be American."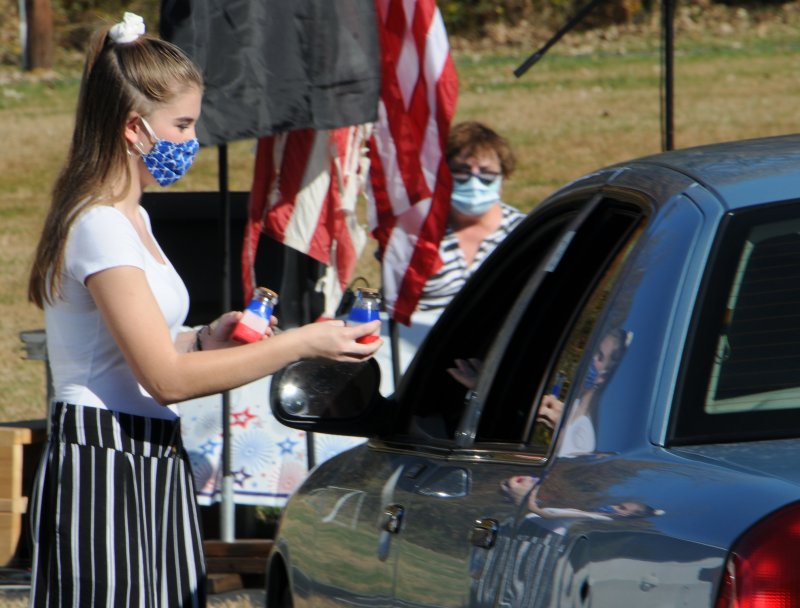 Every year, students give the veterans a gift. This year's gift was a homemade red, white and blue candle with each veteran's branch of service on the front. At the end of the program, students delivered the carryout meals and gifts to each veteran at their vehicle. 
The event ended with a loud salute in the form of the veterans honking their car horns in support of one another and in thanksgiving for the event.