Special to The Message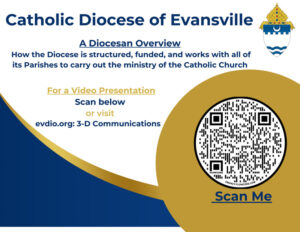 Have you ever wondered how the Catholic Diocese of Evansville operates? Here's your opportunity to learn more!
Watch "3-D Communications, Diocesan Director Discussions," A TED-Talk-style video that offers an operational overview of the Catholic Diocese of Evansville. In the video, Dean Happe, Chancellor and Chief Operating Officer of the diocese, explains how the diocese works together with parishes to carry out the mission of the Catholic Church in our diocese. 
To get straight to the video, scan the QR Code in the accompanying graphic, or visit www.evdio.org and select 3-D Communications from the main menu.