By Father Tyler Tenbarge
Special to The Message
August opened a new school year for our diocese. Kids returned after a good summer break, and with most events and places being fully open, life and ministry are flourishing in the Church of Southwest Indiana.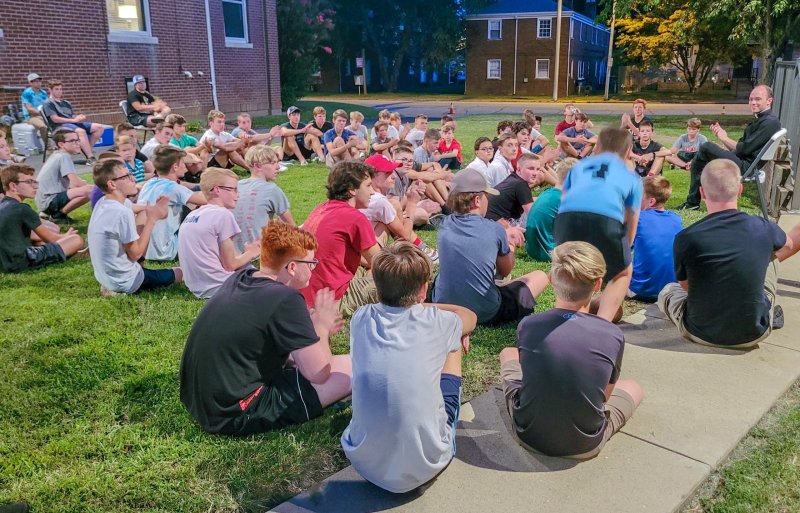 After an August gathering with Bishop Siegel at Sarto, 11 seminarians are now at one of the three campuses we use for their formation. Two of the men are new this year: Nathan Folz from Good Shepherd in Evansville and Jake Schneider from Corpus Christi in Evansville. Due to pandemic restrictions canceling most retreats and barring priests from extracurricular activities last year in dioceses across the country, most dioceses saw a substantial decrease in their seminarian count compared with 2020-21. We stayed level. Thank you to the parents, families and mentors of our discerners for encouraging our men to continue discerning or to take the next step. You made that happen!
Four men moved into the Father Deydier House of Discernment: Keith Hart from St. Peter in Montgomery, José de Jesus Lara from St. Francis Assisi in Dale, Jacob Greulich from Corpus Christi in Evansville and Blaise Kelley from St. Wendel in St. Wendel. These men are either at school at the University of Southern Indiana or working in the Evansville area.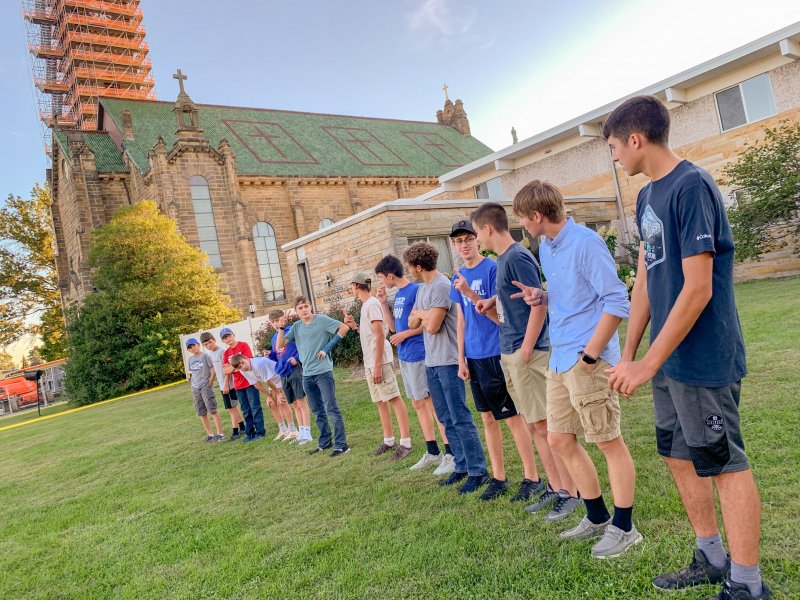 Two Savio Nights are in the books. Nearly 60 teenage guys attended our Sept. 5 gathering at the House of Discernment in Evansville. For the first time, the Vocations Office also hosted a Savio Night in Jasper at St. Joseph Parish. Seventeen teenagers from various parishes gathered Sept. 26 for that first event in Dubois County. When Savio began in Evansville in October 2018, 14 teenage guys attended. Today, more than 140 different young men have come from more than 20 parishes. There is great hope that our Dubois County community will likewise grow in the coming years.
Seminarian posters feature each of our men with their dads. The "Year of St. Joseph" will come to a close this winter, and before it does, we wanted to honor the men who fostered the faith and human maturation for our 11 seminarians before they entered seminary. Posters are available at the Catholic Center. 
A new promotional video was released on the Evansville Vocations YouTube channel highlighting the weekly Monday Night Holy Hour and Mass for Vocations at Sacred Heart Church in Evansville. Nearly 200 of the faithful attend weekly, and a substantial portion of them are under the age of 30. Confession lines are long, even with two priests; and many who have met at TEC, Cursillo, Source+Summit or other diocesan events are able to pray together and reconnect again. All are welcome for the 6:30 p.m. Holy Hour and 7:30 p.m. Mass for Vocations. 
In the coming months, Savio will gather monthly in Evansville and Jasper, and discernment retreats will be offered for the many young men who are hearing the stirrings of a call to priesthood. Please pray for them. Please encourage them, too. If you would like more information on any of the above, please email diocesan vocation director, Father Tyler Tenbarge ([email protected]), or call the vocations office at the Catholic Center in Evansville and leave him a message.