Special to The Message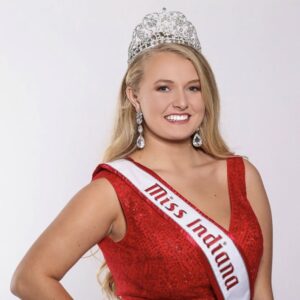 Hannah Ashby, a 2018 graduate of Washington Catholic High School, has been crowned the 2019 National American Miss Indiana. She earned the title in Indianapolis last month and has competed in National American Miss for several years.
She will compete for the title of National American Miss in late November in Hollywood, California, representing the Hoosier State and its young women. There, Ashby will compete in events showcasing her public-speaking skills, communication and interview skills, professionalism, community service, confidence, poise and stage presence.
During her reign, Ashby plans to use her own non-profit, Hannah's Helping Hands, to serve the community. Through Hannah's Helping Hands, she has collected more than 1,400 shoes for the Changing Footprints organization, which distributes new and used shoes throughout the world to countries like Guatemala, Saudi Arabia, Haiti and parts of the United States. She also has collected t-shirts for distribution in Haiti.
Ashby plans to continue her efforts and work with other organizations as Miss Indiana. Her plans include organizing collections for Peyton Manning Children's Hospital; collecting gently used business attire to donate to Dress for Success, which empowers women to achieve economic independence; reading to local elementary schools and volunteering at the Ronald McDonald House.
Ashby is a sophomore at Butler University studying Marketing and Strategic Communication. She is an active member of the Butler Catholic Community as the Event Captain of the Outreach Team of the Peer Minister Group.
Her most recent project is helping organize the Verso L'alto (towards the heights) groups. Inspired by Blessed Pier Giorgio Frassati, these groups strive to bridge the gap between first-year students and upperclassmen in the Butler Catholic Community, giving the younger students mentors and friends in the faith.