Special to The Message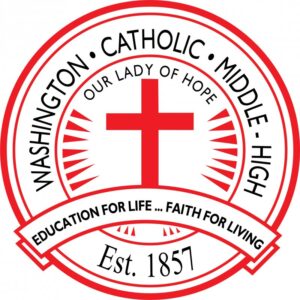 On April 7, Washington Catholic Middle/High School in Washington became the first Indiana school to onboard with Ivy Tech's LevelUp Program.
Teachers and administrators met with LevelUp program coordinators to train and learn about the LevelUp program's many benefits for Indiana students. LevelUp is a free, accessible online resource available to all students in Indiana that offers individualized learning paths based on each student's demonstrated needs. 
Closely aligned with the Indiana Academic Standards, this resource is an important tool for Washington Catholic teachers tasked with addressing gaps in learning due to extended COVID-19-related closures and disruptions in the learning environment.
The LevelUp program is a partnership between Ivy Tech and the NROC Program, a national organization dedicated to promoting equity in education and to providing schools with tools that recognize every student has unique learning needs and preferences. Of the many programs NROC offers, the LevelUp program, tailored by Ivy Tech to specifically address Indiana Academic Standards, promises to be a powerful tool for Washington Catholic teachers and administrators to not only address learning gaps recognized across the country due to the ongoing worldwide pandemic, but also to address Washington Catholic students' learning needs and create a more solid foundation for post-secondary success through its attention to college and career readiness.
The LevelUp Program is unique in its ability to store student data, allowing Washington Catholic to create long-term learning plans that grow and change as students master content and skills. Teachers are excited to incorporate this online diagnostic and learning tool, with initial student assessment and registration to begin as early as next week.
Washington Catholic Middle/High School Principl Karie Craney said, "At Washington Catholic, we are committed to providing our students an education for life and a faith for living. Our learning community is open to students of all faiths, and our dedication to equity and our community drives us to seek solutions to address the myriad student needs in creative, engaging ways. Ivy Tech is one of four programs featured in a CAPR analysis of post-secondary readiness for its use of EdReady's assessment and individualized learning platform, where campuses statewide are seeing a positive shift in student retention, engagement and academic success."
Craney added, "As the first Indiana high school to onboard with Ivy Tech's LevelUp Program, we are excited to see how implementing this program for students before graduation positively impacts both college and career preparedness. This is just one more way we demonstrate our firm commitment to ensuring each Washington Catholic Middle/High School student reaches their full, God-given potential through data-driven, responsive and engaging teaching techniques that focus on whole-child learning."
For more information, contact Craney or Director of Student Services Rebecca Birchler at 812-254-2050.