By Tim Lilley
The Message editor
Large crowds filled venues in Vincennes and Jasper to near capacity earlier this month for the Diocese of Evansville's 2022 Wisdom Days.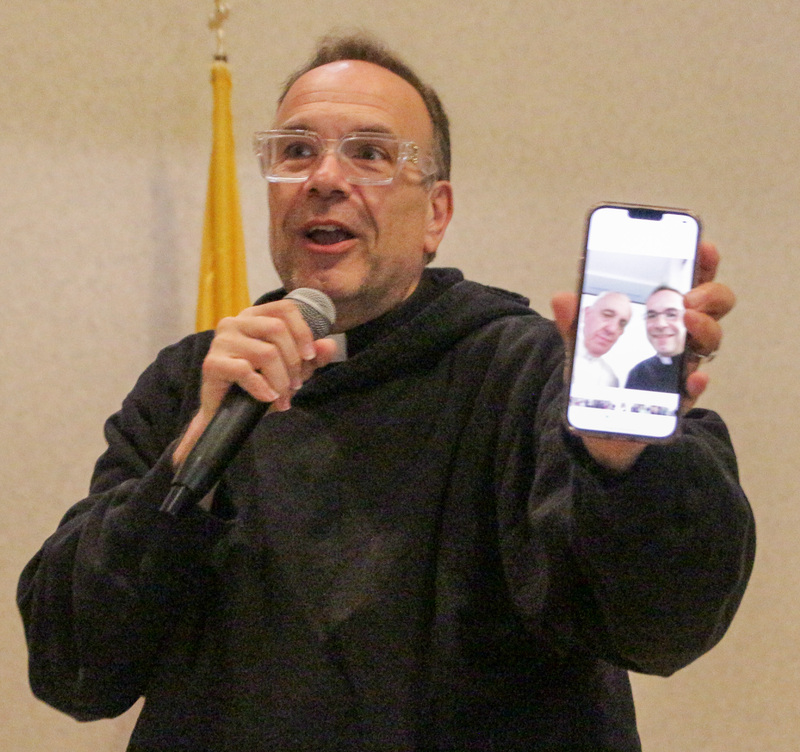 Vincennes University's Green Activities Center hosted the Sept. 12 Wisdom Day, and the gymnasium in Kundek Hall at St. Joseph Parish in Jasper served as the site of the Sept. 22 Wisdom Day. 
Father Jim Sichko
Internationally known Papal Missionary of Mercy and speaker Father Jim Sichko, who is formally assigned to the Diocese of Lexington, Kentucky, visited the diocese to speak at the Vincennes Wisdom Day. Father Jim is in his seventh year of spreading the message of God's mercy across the world after being selected by Pope Francis to serve as part of a program developed for the Year of Mercy proclaimed by the Holy Father, which ran from December 2015 to December 2016. 
Father Jim explained that, during a visit to Rome for the missionaries' initial meeting about the Holy Year of Mercy, he was one of a handful of missionaries selected from around the world to serve in residence at the Vatican as part of his duties. That ultimately led to an invitation from Pope Francis to serve full-time as a Missionary of Mercy across the world.
Editor's note: Vincentian Father Steve Gallegos, Chaplain of the Daughters of Charity Seton Residence in Evansville, also was named a Missionary of Mercy for the 2015-2016 celebration.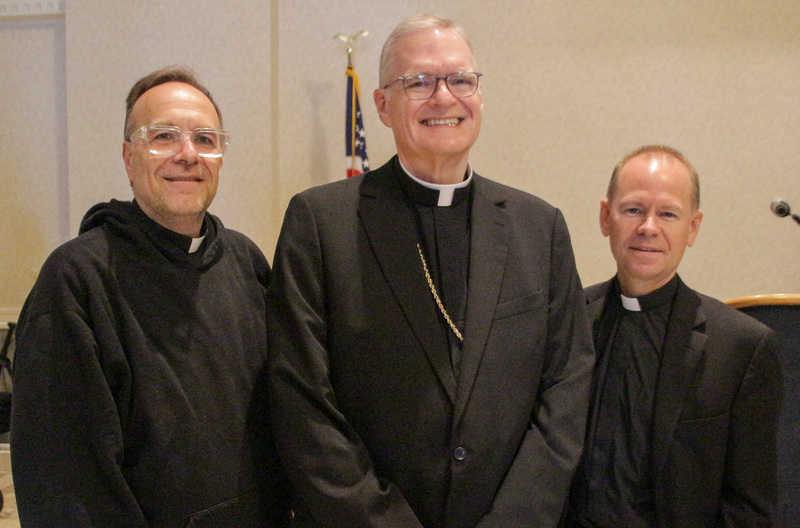 Father Jim's message in Vincennes focused on God's presence in our lives. "Do you know the sound of God's voice in your life?" he asked. "We are all Jesus to each other. How do you promote Jesus in your life?"
Father Jim offered some examples of times in his life when he knew Jesus was present. They all had the same point. He said, "You have to believe that God is with you."
Bishop Siegel
Bishop Joseph M. Siegel spoke at both events about the U.S. bishops' call for a Eucharistic revival across the country. He said the bishops' focus is on an effort that will renew the sense of awe and wonder in the Eucharist, which is the source and summit of our faith. 
He said, "The Eucharist is the closest we'll come to Jesus on this side of Heaven." He called the Eucharist the pinnacle of all we do as Catholics, noting that it powers and inspires our daily lives. The bishop said there is a need, through the Eucharistic Renewal in our diocese and elsewhere, to reinforce what we believe. He noted that parent and grandparents play crucial roles.
He discussed St. Pope John Paul II, who stated the need to rekindle our Eucharistic amazement. The bishop said that we must be the light of Christ in our communities, and that is only possible through the Eucharist.
Diocesan Operations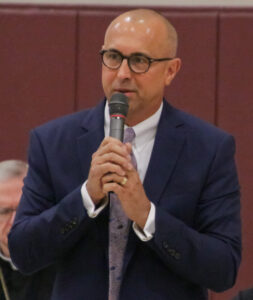 Diocese of Evansville Chancellor/Chief Operating Officer Dean Happe also spoke at both Wisdom Days, giving attendees an overview of diocesan operations and service to parishes and the community. 
In opening, Dean said, "We're not in business for business; we're in business for saving souls."
Dean discussed the various ways the diocese works with its clergy, staff, and parishes and their staffs, to finance and provide ministries and services across our 12 counties. He noted that, currently, 65 percent of the annual budget goes to vocations and clergy support; Catholic education; Catholic Charities; and retirement funding for clergy and staff members.
More on Eucharistic Renewal
During the Jasper Wisdom Day, Diocesan Director of Catechesis Joel Padgett made a presentation outlining the details of the diocese's Eucharistic Renewal effort. Joel continues to work with parish catechetical leaders and others from across the diocese to explore all available opportunities to follow St. Pope John Paul's suggestion to rekindle our Eucharistic amazement.