BY KAREN BONAR
Catholic News Service
FORMOSO, Kan. (CNS) – On June 8, the population of Formoso grew by one when Gayle and Caleb Mahin's third child, Warren, was born.
"It wasn't until we had kids that I was like, 'Thank God that I'm here,'" Gayle said. "(Before kids), I fought moving to the country."
The young family are members of St. Edward Parish in Belleville, 20 miles east of their rural home in the small, north-central Kansas town.
While the family is now comfortably settled in rural Kansas, it's not where Gayle pictured her life a dozen years ago.
Her aversion to small-town life was tied to moving as a sixth grader to Mankato, Kansas, from Sterling, Colorado. "I had culture shock," she said. "(In Mankato), there were probably only 13 in my class in sixth grade. I probably had 400 in my class in Colorado."
She dreamed of eventually returning to Colorado. "I loved the mountains. I loved Colorado," she told The Register, newspaper of the Diocese of Salina.
Gayle attended Wichita State University, and said the bigger Kansas city appealed to her. She didn't make regular trips back to Mankato until her grandfather became ill.
"My grandma was alone after he passed away," she said. "I slowly started having more appreciation for small town life, but I never wanted to go back. I didn't think there was opportunity."
She pursued a master's degree in social work at the University of Kansas in Kansas City and Lawrence, Kansas, and felt she couldn't be successful "or have a job I enjoyed in a small town."
She went to Grand Island, Nebraska, where she worked as a school social worker for the alternative middle school, and "fell in love with it," said Gayle. She was dating Caleb at the time, and he "was willing to do whatever he needed to do to come to Grand Island."
"It wasn't until later, as I got older, I grew more in appreciation for my grandma and small town life," she added.
Caleb left his hometown of Courtland, Kansas, to attend college at Fort Hays State University in Hays, Kansas, and hoped to return home with the guys in his graduating class. But a lot of them "had family farms to go back to" and he didn't.
He began exploring other employment options near his hometown. On Easter weekend of 2010, he said he asked Gayle's grandma about how she began working in crop insurance.
"She was 80 then and still running the little crop insurance agency all by herself," he said. "A couple months later, she had me taking my test to get licensed."
He began selling crop insurance with Loretta, in addition to a few other jobs.
As the couple continued to date, and as her grandmother eventually gave the business to Caleb in 2013, Gayle said her perspective about small town living began to shift slightly.
"Once we got serious and engaged, I knew something would have to change," she said. "He was still willing to go to Colorado, but I knew his heart was at home. He hated the city. He would have been miserable. Once we got to the serious point of wanting to have kids, we knew we needed family nearby to support us.
"I guess it comes down to when you love someone, you have to do what's best for both of you, not be selfish about it."
The couple wed in 2013, and Caleb split his time between Courtland and Grand Island, where Gayle worked for the first year of their marriage.
They got serious about moving to rural Kansas, and bought a house on the outskirts of Formoso and made it home.
They bought a second place, one of the many houses in the area that have been abandoned and are run-down, fixed it up and turned it into a vacation rental property. With a rural location and few hotels, Caleb said, the house gets plenty of visitors through Vrbo or Airbnb website bookings.
One struggle their small community faces is dilapidated properties, Caleb said. "There are so many houses that have fallen in and have been abandoned and not been cared for."
He and a friend are currently working on improvements of another property to similarly list; Caleb and Gayle manage another Airbnb property in Formoso for a family member.
And Gayle, who once felt success hinged on having a job in the big city, currently works as a virtual fitness and nutrition coach, connecting with clients online.
"You can make anything work any place," she said. "You can be successful anywhere ... if you are willing to put in the work! We've had so much support from the community and our family. It's made it a lot easier."
Gayle, who became a Catholic while pregnant with their oldest, said Caleb's family was a model for love, support and faith.
"His family is amazing. They showed me what a family is and does for each other," she said. "I wanted to be united in faith with my husband. I admired his family's morals and values. They modeled things for me that I never saw as a kid."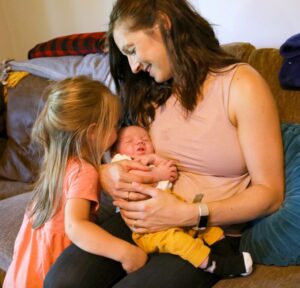 But it's something she's working to provide for her own children, Drake, 4, Hazel, 2, and newborn Warren.
"I think small town life is really beneficial. I feel like it's a safe place to raise kids," Caleb said. "Everybody pitches in to be sure kids are doing what they're supposed to and being safe and looking out for each other in that way. I feel like the whole community helps raise the kids."
Bonar is editor of The Register, newspaper of the Diocese of Salina, Kansas.