By Mayor Lloyd Winnecke, City of Evansville
Special to The Message
It was a bold, humanitarian gesture that personified the collaborative spirit of our community.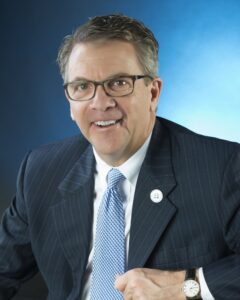 In late March, as the coronavirus pandemic was heating up, the Catholic Diocese of Evansville embarked on a cooperative venture with the City of Evansville to protect our community's most vulnerable citizens from COVID-19. We knew that people experiencing homelessness faced greater risk for contracting COVID-19 due to pre-existing health conditions, sleep habits and lack of routine hygiene. If we didn't act immediately, COVID-19 could spread rapidly through the local homeless population.
The Commission on Homelessness for Evansville and Vanderburgh County posed a unique solution: establish a homeless self-isolation facility. I posed the idea to Bishop (Joseph M.) Siegel and he immediately agreed to help, offering us the use of the Sarto Retreat House. It would serve as the Evansville Independent Self Isolation Center; a safe, secure place for people experiencing both homelessness and COVID-19.
A core team of people went into action to bring the EISIC to life: Chris Metz, Executive Director of ECHO Housing; Kathy Clodfelter, Executive Director of Case Management and Integration, Deaconess Health System; Dr. Christopher Neely, Hospitalist, Priority Care Inpatient Services, Ascension St. Vincent Evansville; and Timothy Weir, Administrator of the Commission on Homelessness for Evansville and Vanderburgh County. Together, they created testing protocols, admission and discharge policies, staffing schedules and operational guidelines. They were joined by a staff of over 30 community volunteers; from healthcare professionals working on their days off and Aurora case managers, to everyday servant leaders with hearts for helping.
Agencies and organizations pitched in to supply PPE, medical equipment, clothing, meals, water, iPads, mobile phones and other necessities. Among them were Southwest Indiana American Red Cross, Vanderburgh County Health Department, Deaconess, Ascension Saint Vincent Evansville, ECHO Community Healthcare, the Evansville Emergency Management Agency, Evansville Rescue Mission, Aurora Inc., the Evansville Christian Life Center, Verizon Response Team, Comaier Transportation, ECHO Housing Corporation, Evansville Goodwill Industries, and so many more. United Caring Services acted as fiscal agent.
During its operation from April 1 to June 11, 2020 – after which it was returned to its original condition and returned to the Catholic Diocese – the EISIC at Sarto provided housing and comfort to nine clients. Some isolated for a few hours or days while awaiting test results. Others tested positive and stayed longer. Some came from shelters; others were living in their cars. Most were discharged to better conditions, leaving healthy for temporary and permanent housing; no longer homeless, but housed.
The EISIC facility was the first in Indiana to provide self-isolation for people experiencing homelessness and COVID-19. While operating, the core team developed and implemented the only on-site COVID-19 testing for homeless residents in the state. Noteworthy, certainly, but not as important as its greatest accomplishment: preventing the spread of COVID-19 among Evansville's homeless residents. And for that, our community will be forever grateful to the Catholic Diocese of Evansville and Bishop Siegel.
Special thanks to Tim McGuire, Tim Lilley and Andy Reckelhoff of the Catholic Diocese for their close collaboration and support.