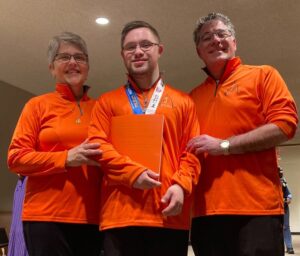 BY JAMES MARTONE
OSV News
UNITED NATIONS (OSV News) – It was his first speaking engagement at the United Nations' headquarters in New York; and Gabriel Cobb, who has Down syndrome, was admittedly "a little nervous."
But it was obviously nothing the 22-year-old Catholic from St. Louis couldn't handle.
"I am Gabriel, God's messenger," he told OSV News in a March 17 interview, moments before he was set to address a U.N. gathering of advocates for those with Down syndrome and autism who discussed the challenges faced by families raising children with different developmental expectations and milestones.
"It was never my intention to come to New York, but I prayed on it," Lori Cobb, his mother, chimed in.
She explained to OSV News that the U.N. had invited Gabriel to speak at a similar event three years ago, but it had been canceled due to COVID.
But that gave Gabriel, as well as herself, the time needed to prepare.
"Here we are three years later, and he has had a year of practicing. And now, he is comfortable and confident; way more than we were then," she said.
"It has been something that has been even hard to believe," Thomas Cobb, Gabriel's father, told OSV News, visibly moved by it all.
He paused for a moment and said that, earlier that morning, he received a text from another family who has a child with Down syndrome. They told him Gabriel's story and the U.N. invitation "had encouraged them … and gave them hope."
Then, a U.N. security guard came and told Gabriel, Lori and Thomas Cobb it was time to begin.
"My faith is the most important part of my life. I like to attend Mass daily and proclaim loudly," said Gabriel, as he got up from the interview and walked toward the U.N. conference hall.
His mother and father rose to follow.
"Now, here we are at the U.N. Gabriel is not a professional speaker; but somehow, God thinks he has a message to share," Lori said, adding their family stopped by nearby St. Agnes Church on the way to the U.N. building.
"After all, I am Gabriel, God's messenger," Gabriel reiterated, with a big smile, and off they all went.
Inside the huge hall, experts on Down syndrome and autism made some of the first speeches.
Lisa Correnti, executive vice president of the Center for Family and Human Rights, spoke about international agreements that "reaffirmed that persons with disabilities are equal in dignity and rights.
"Governments should strive to provide social protection measures to families which are primarily responsible for the development, educational and well-being of children with autism and Down syndrome, and very often remain their main sources of social protection," said Correnti, whose organization monitors social policy debates at the U.N. and other international institutions.
Gabriel's speech also highlighted the role his family played in his life.
"I have two loving parents who have always kept the ball high," Gabriel told the conference hall.
As Gabriel spoke, a photo slideshow played over his right shoulder. He explained each photo: Gabriel doing chores with his father and, with his mother, playing piano and reading books, including the works of William Shakespeare and Mary Shelley's "Frankenstein."
Then, photos of Gabriel swimming, biking and running appeared on the screen.
Gabriel told the U.N. hall that he was a triathlon athlete, which meant he swam, ran and biked all in one race – and not just once, but 10 times.
"I have done it; I am a triathlete," he exclaimed, to loud applause.
Gabriel vowed "to continue to … compete," and he thanked the "coaches, family and friends, who have encouraged me to press boundaries.
"I pray that I have given them joy and inspiration," he said, "because, with their help, I have Down syndrome and I have no limitations."
James Martone writes for OSV News from New York.