Special to The Message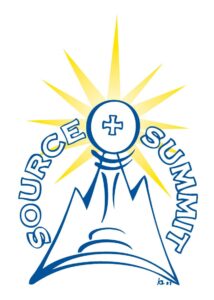 Mater Dei High School in Evansville will host the 20th Source + Summit youth retreat April 1-3. Corpus Christi Parish in Evansville will host a companion adult retreat April 2. The theme is taken from Luke 23:46, "Father into your hands I commend my spirit."
The Source + Summit Retreat has made a life-changing difference in the lives of hundreds of youths in our diocese! This Eucharistic-centered retreat gives young people a solid Catholic foundation, a real and deeper relationship with God, and the grace to fight the counter-cultural issues that our young people face today.
Participants spend time in guided small groups, in which peers help peers journey deeper into their faith. They experience the authentic, lived faith of over 60 young-adult team members who facilitate the weekend by serving as role models for the younger members of our Church. Through participation in the sacrament of reconciliation, Mass, praise and worship, and Eucharistic Adoration, they encounter the real and living presence of Jesus among us.
Source + Summit's outstanding speakers are energetic, passionate, engaging and spirit-filled. They will guide the participants of the 20th retreat into the meaning of Jesus' last spoken words, "Father into your hands I commend my spirit," and how we are to follow in his footsteps. What is our spirit? How do you commend your spirit to the Father? Why do we need to commend our spirit into the loving hands of our Father?
Our speakers are called by God to strengthen the souls and minds of young people trying to survive in a morally toxic culture while inviting them into a real and personal relationship with Jesus, ever present in the Blessed Sacrament. They have commended their spirits into the hand of God and want to guide our youth to do the same! 
The Source + Summit Adult Retreat is April 2 at Corpus Christi Parish. This retreat provides an oasis of inspiration for adult participants searching for a deeper meaning to their faith and a deeper personal relationship with Jesus – using the same impassioned speakers as the youth retreat. The Sacrament of Reconciliation, Mass, praise and worship and Eucharistic Adoration are all experienced in new and deeper ways at this retreat.
In addition to priests of the Diocese of Evansville, Source + Summit speakers this year include:
Franciscan Friars of the Renewal Father Giles Marie Berrie, Father Justin Alarcon, Father Terry Messer and Brother Damien Joseph Novak

Apostolic Sister of the Community of St. John SisterAnne Diukart

The Sisters of Life

The Nashville Dominicans

Missionary Nic Davidson

Catholic illusionist Giancarlo Bernini 
To see a list of speakers, complete retreat information and how to register, visit www.sourcesummitevansville.org; call 812-453-1024; or email [email protected].