By The Message staff
The Society of St. Vincent de Paul – Evansville District Council is partnering with WIKY 104- FM on the 3rd annual Ton of Toys program to help provide toys and gifts for the children of those experiencing financial difficulties.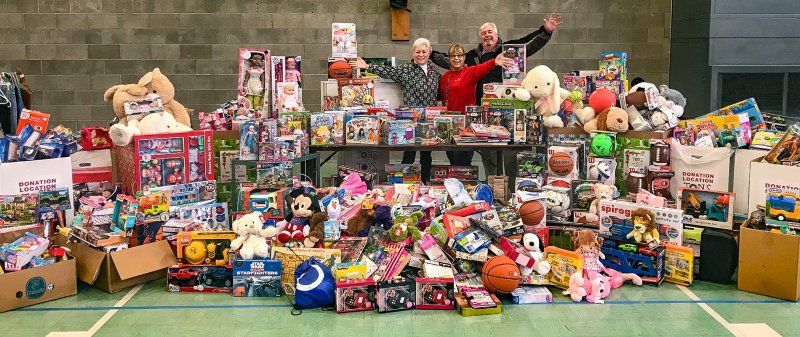 Joe Cook, executive director of the St. Vincent de Paul – Evansville District Council tells The Message that the idea for the Ton of Toys program originated with WIKY. Cook said the station has done a "Ton of Turkeys" drive leading up to Thanksgiving, then got the idea a couple of years ago to do "Ton of Toys." St. Vincent de Paul partners with WIKY, providing the volunteers who take requests for Christmas gift assistance and then help families on the shopping days.
Cook said, "St. Vincent de Paul is the hands and feet for this event."
Collection boxes for toy donations will be located at the Lucas Oil Centers on N. Green River Road and W. Lloyd Expressway and the Evansville and Newburgh German American Bank lobbies.
Toys may be brought to any of these locations during their business hours beginning Monday, Nov. 23. The last day for donating at the German American Bank locations is Friday, Dec. 11. Donations will be accepted at the Lucas Oil Centers through Sunday, Dec. 13.
Please note that online donations are encouraged to reduce the risk of COVID exposure. Visit www.svdpevansville.org and look for the Ton of Toys box at the top of the homepage.
How does the process work for the family needing assistance?
Families need to be referred by a member or volunteer of St. Vincent de Paul. The phone number to call is 812-425-3485. Information on shopping days and hours, directions, and a copy of the completed voucher will be emailed or mailed to the family requesting assistance for Christmas shopping.
Who can participate?
Only children under the age of 18 may be registered for participation and must reside in Gibson, Posey, Vanderburgh or Warrick counties. Families may not be registered with any other Christmas toy giveaway program. Requests must be submitted to St. Vincent de Paul by Dec. 14.
Shopping Days

The Catholic Center is providing the space for shopping, which will be held on Tuesday, Wednesday and Thursday, Dec. 15, 16 and 17 from 10 a.m. to 3:30 p.m. CST. The cost to the family is 25¢ per child. Based on the availability of presents, children can receive two toys, a stocking stuffer, a family game and a puzzle.
For more information, visit www.svdpevansville.org.