By Megan Erbacher
The Message assistant editor
Mater Dei High School senior Blaise Kelley said the annual observance of the National Day of Prayer is important because it brings all faiths "together in unity to celebrate our belief in God."
Fellow Mater Dei senior Lauren Rexing agreed.
"We're all humans, and God created all of us; so no matter what religion we are, we're all still people," she said.
Kelley and Rexing were part of the Mater Dei singers who opened and closed the May 6 inter-faith observance of the 70th National Day of Prayer at the Four Freedoms Monument on Evansville's Riverfront.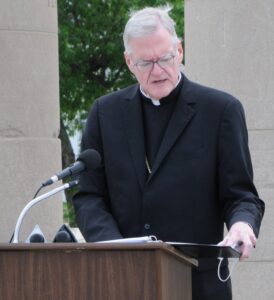 For the first time in five years, local religious leaders were able to observe the day outdoors with about 50 people who gathered to pray together. This is the first observance since 2019 due to COVID-19, and inclement weather moved the 2017, 2018 and 2019 observances indoors.
Catholic Diocese of Evansville Bishop Joseph M. Siegel and eight representatives from faith traditions with homes in greater Evansville offered short prayers or reflections, while Evansville Mayor Lloyd Winnecke read a proclamation from the City of Evansville, which declared May 6, 2021, National Day of Prayer Day for the city.
The interfaith observance takes place annually on the first Thursday in May as a way to celebrate the city's unity through diversity. Evansville has hosted this interfaith observance for decades.
Bishop Siegel welcomed the group, and he offered opening and closing prayers. Bishop Siegel noted that the national theme of this year's observance was "Lord Pour Out Your Love, Life, and Liberty," based on 2 Corinthians 3:17.
Bishop Siegel said the tradition of calling on our nation for a day of prayer and devotion to God dates back to the earliest time in our country's history. He said we're all certainly aware of how much we need to pray for a deeper spirit of love in our nation, as there seem to be so many divisions and violence experienced in every aspect of society. The bishop said we also pray for greater respect for human life and the grace to protect the precious gift of liberty that's been bestowed upon us.
Winnecke said it was a blessing to be back at the observance to join faith leaders from around the community.
"One of the great strengths of our city is we that are a city of faith and it's always a pleasure to join members of all faith communities in prayer, especially on this day," he said.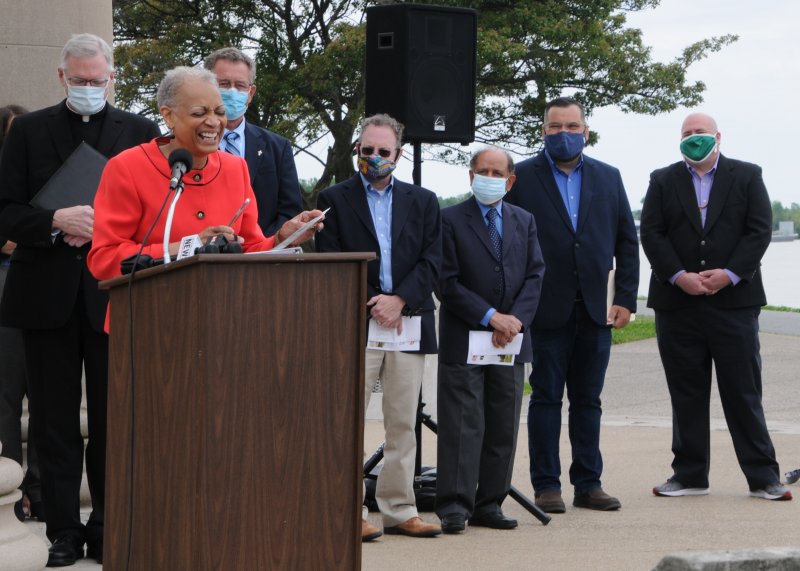 In addition to Bishop Siegel, other religious leaders who offered prayers this year – each in their own faith tradition – were:
Diocese of Evansville Deacon Tom Goebel, who serves as volunteer chaplain at the Vanderburgh County Sheriff's Office, prayed for all

first responders, while Evansville Fire Department Chief Charles Connelly and Evansville Police Department Officer Taylor Merriss represented first responders and all men and women in uniform

who serve and protect us at home and around the world.

Rabbi Gary Mazo, Temple Adath B'Nai Israel

Dr. Mohammad Hussain, Evansville Area Islamic Society

Rev. Ryongwan Karuna, Mindful Heart Buddha Sangha

Rev. Emily Slade, Bethlehem UCC

Abraham Brown, Holy Name Church, Henderson, Kentucky, Spanish prayer

Rev. Veltri Taylor, First Ebenezer Baptist Church
Part of Mayor Winnecke's proclamation stated: "Whereas, the National Day of Prayer provides residents the opportunity to give thanks for the many blessings our country has received and to recognize the need for a renewal of moral values and heavenly guidance for community leaders."