By Megan Erbacher
The Message assistant editor
Last month, Evansville Mayor Lloyd Winnecke presented Keys to the City at Mater Dei and Reitz Memorial high schools to all Catholic Schools in Vanderburgh County, but he said he also wanted to "express his personal gratitude" to the leadership team of the Diocese of Evansville for safely keeping kids in school during the COVID-19 pandemic.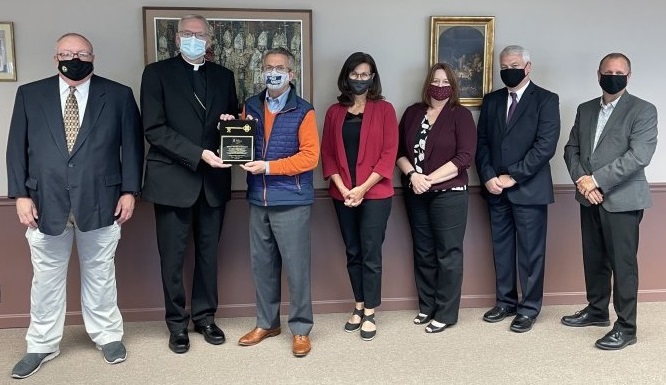 On May 10, Mayor Winnecke presented a Key to the City to Bishop Joseph M. Siegel; Tim McGuire, Diocesan Chancellor and Chief Operating Officer; Tim Lilley, Director of Communications and Editor of The Message; Superintendent of Catholic Schools Dr. Daryl Hagan; Assistant Superintendent of Schools Michelle Priar; and Andrea Greaney, Coordinator of Student Services and School information Systems. The mayor presented the honor at the Diocese of Evansville Catholic Center.
Mayor Winnecke said it was a pleasure to present the key, which reads: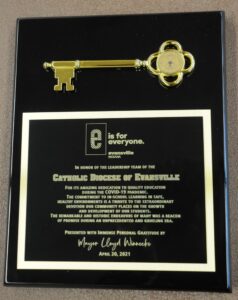 "In honor of the leadership team of the Catholic Diocese of Evansville, for its amazing dedication to quality education during the COVID-19 pandemic, the commitment to in-school learning in safe, healthy environments is a tribute to the extraordinary devotion our community places on the growth and development of our students. The remarkable and historic endeavors of many was a beacon of promise during an unprecedented and grueling era. Presented with immense personal gratitude by Mayor Lloyd Winnecke."
The mayor said a Key to the City is the "most visible way a mayor can thank a person or an institution for a major commitment to the community."
Mayor Winnecke said he wanted to reiterate his thanks to the leadership of the diocese for their good work. The recognition was twofold, he said.
"One, I feel like our work has been lifted up in prayer daily, and I know that has come from this diocese ... And, as you heard me say at Memorial and Mater Dei, that was such an important domino effect that allowed kids to stay in school, where they learn better. Their families knew they were in safe, trusted environments where they got to learn, and their families got to keep working."
Bishop Siegel thanked Mayor Winnecke for his leadership, and Hagan echoed his appreciation.
Hagan thanked everyone who has helped along the journey during this past school year.
"This was a team approach, and we have accomplished a great deal together. … We've been very blessed," he said.