By Megan Erbacher
The Message assistant editor
Editor's note: This is part of a series highlighting the 10th anniversary of Indiana's Choice Scholarship Program.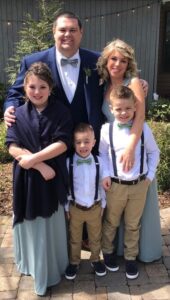 Bryan and Christin Eberhard's world was turned upside down when Christin gave birth to their youngest child, Kipton, at 24 weeks. At the time, their oldest child, Bella, was in preschool at St. John the Baptist School in Newburgh; but the plan was for her to attend the school where Christin had been teaching. 
However, that was no longer a reality.
"The SJB faculty and staff made Bella feel so safe during that time, and it didn't take us long to realize that was where we wanted her to stay," Christin said. "However, the medical treatments we were facing with our son and becoming a one-income family suddenly required us to explore other ways to finance the education we desired."
The Eberhards learned about the Indiana Choice Scholarship Program, which has given them the opportunity to provide all three of their children with a Christian education. 
"This is something we never would have been able to do otherwise," Christin said. "We love SJB, and we are so thankful for this program and our time here."
This year marks the 10th anniversary of Indiana's Choice Scholarship Program, commonly known as the voucher program, which allows parents and guardians to choose the school they believe is best for their kids. In the spring of 2011, then-Gov. Mitch Daniels signed Indiana's Choice Scholarship Program into law. In the past 10 years, more than a quarter-million Indiana students have benefitted from the voucher program.
Christin and Bryan have three kids who all attend St. John the Baptist: Bella, 13, is in seventh grade; Cooper, 10, is a fourth-grader; and Kipton, 8, is in second grade.
SJB offers everything Christin and Bryan desire for their children: small classes, caring staff and a Christian education. 
"It also provided us the ability to continue a family legacy of Catholic education," Christin said. "My husband and all of his sisters attended SJB. Our family is members of a local Christian church, but it is important to us that our children understand the Catholic faith. It is part of who they are and the legacy of faith that our family has been built upon."
Christin also teaches first grade at SJB. When Kipton was in preschool, Christin returned to work part-time in the cafeteria; then she took a job as a resource teacher; and this year, she became a first-grade teacher.
"I have been in the field for over 10 years, and SJB has been an important part of my journey as a teacher," she said. "This year and this opportunity were extra special because I was able to carry on the tradition of first-grade education that my mother-in-law began at SJB over 30 years ago.  It's so special to be teaching in the same classroom where she instilled a love of learning for so many children for so many years."
Christin said she loves being able to help students discover what they have to offer the world through the lens of God's Word.
"They need to know that they have been created in the image of God and are therefore unique," she said. "I have the blessing of being able to not only grow their minds through academic instruction, but also grow their spirits by helping them understand God's work and his love for us all."