BY THE MESSAGE STAFF
The newly renovated St. Benedict Cathedral features a number of statues — and the crucifix above the altar — that have been fully restored. These photos represent a "tour" of the restored works. Chris Moran, of Trinity Church supply in Cincinnati, Ohio, restored statues of St. Ann with a young Mary; St. Anthony of Padua; St. Jude; and the Sacred Heart of Jesus. Before renovation, visitors to the cathedral and St. Benedict parishioners found them at the back left of the sanctuary, in an area that originally served as the church's baptistery.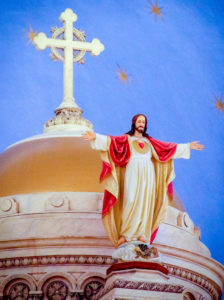 Moran also restored the Sacred Heart statue that stands atop the baldacchino in the cathedral, and the Corpus of the crucifix above the altar. St. Benedict parishioner and Scout Troop 318 member Daniel Payne raised funds for their restoration and refinished the cross as part of his Eagle Scout project. The Sacred Heart had stood atop the baldacchino for decades, but it was removed more than 50 years ago during renovation work. The crucifix, which stood in the main sanctuary for many years, had served as the St. Benedict Mission Cross.
Visitors to the renovated cathedral will notice statues of Mary — to the left of the altar where the tabernacle had been — and Joseph holding the Baby Jesus — to the right of the altar where the Cathedra, or bishop's chair, had been located. They are new to the cathedral and come from churches in the Cleveland, Ohio, area that have been closed. Henninger's Church Supply of Cleveland restored these statues.