Special to The Message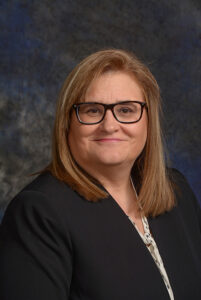 Bishop Joseph M. Siegel has appointed Alison Montee to serve as the Diocese of Evansville's Finance Officer. She replaces Dean Happe, recently named diocesan Chancellor and Chief Operating Officer; she will assume her duties Aug. 10.
Alison joins the diocesan staff from Versteel-Indiana, where she has served as chief financial officer. She has 30 years of experience in a variety of finance and accounting roles, including 25 years in financial-leadership positions.
Bishop Siegel said, "Alison will be a wonderful addition to the diocesan staff. She brings a wealth of expertise and experience, along with a solid grounding in the Catholic faith. I look forward to working with her."
Diocesan Chancellor Dean Happe said, "We are extremely pleased and blessed to have someone of Alison's experience and background join our team. I look forward to working with her in our continued effort to provide financial management that enables the good work and ministries across our diocese."
Alison earned a bachelor's degree in accounting from Regis University with a minor in computer science. She served as a resident advisor for three years as an undergraduate.
Prior to joining Versteel, Alison's financial experience included service for Nike in Oregon, Kimball Office Group in Indiana, Stens Corporation in Indiana and Koch Development-Holiday World/Spalshin' Safari. There, She served as director of finance, then as vice-president of shared services.
Alison said, "I am truly honored by the opportunity granted to me by Bishop Siegel and Dean Happe to serve as Diocesan Financial Officer.  I am excited to work with a faith-filled team in supporting parishes, charities and other organizations throughout our diocese, and have received a warm welcome from many already.  I will continue to pray for God's guidance as I step into this new role."
While at Holiday World/Splashin' Safari, she served one year on the human resources committee of the International Association of Amusement Parks and Attractions.
Since March 2017, Alison has volunteered to serve as a board member and CFO of the Colorado-based Ashley Doolittle Foundation, which is dedicated to raising awareness and prevention of teen-dating violence by educating young people and parents, and creating conversation about an issue that is often not recognized.
Alison is a member of St. Mary Parish in Ireland.