Special to The Message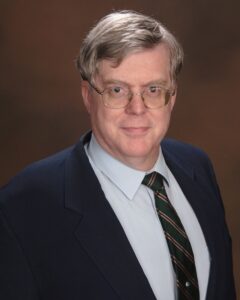 Michael D. Greaney, a son of Evansville's Corpus Christi Parish and 1973 graduate of Mater Dei High School, definitely took notice two years ago when the World Economic Forum proposed a Great Reset to remake the global economy and society – in large part responding to the impact of COVID-19.
Neither he nor Dawn Brohawn, who works with him at the Arlington, Virginia-based Center for Social and Economic Justice, cared much for the elements of the Great Reset. Greaney serves as CESJ Director of Research, and Brohawn is the organization's Director of Communications.
They countered by co-authoring "The Greater Reset: Reclaiming Personal Sovereignty Under Natural Law." In announcing the work, publisher TAN Books noted that, in "addressing global problems largely through such income redistribution measures as universal basic income and stakeholder capitalism, the Great Reset has provoked opponents to denounce it as a plan to increase control by the state and the wealthy elite over the lives of ordinary people."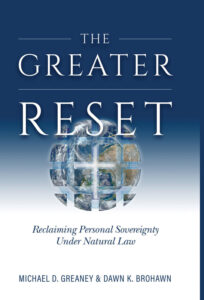 Greaney said, "We can't get into the trap of trying to change human nature to make society work.  Instead, we must change society so that it works for us; social institutions were made by and for people, not people for social institutions.  This process of changing social institutions is called 'the act of social justice,' social justice being the virtue directed to restructuring our institutional environment so that we as individuals can become virtuous within a justly structured society."
As an alternative to the World Economic Forum's Great Reset, Greaney and Brohawn propose an Economic Democracy Act that Greaney describes as "a holistic, integrated approach that can be applied to any economy. It consists of basic economic reforms and financial innovations that have already been proven to enable people without savings to become economically independent owners of capital, without taking anything from existing owners. These techniques have worked for more than a half-century to remove people from dependency on the state and other people."
Greaney asserts that the heart of the book is its focus on personal empowerment and responsibility instead of relying on the state or the permanent charity of others. He said, "We don't have to put up with an economy that runs on debt, in which wealth is concentrated, and in which most people depend on the government to create jobs or give them welfare.  The world was made for all of us, and there are ways that everyone can become an owner of income-generating wealth without redistributing what already belongs to others or redefining ownership."
After graduating from Mater Dei, Greaney earned an undergraduate degree in business administration from the University of Notre Dame in 1977 and a Master's in business administration from the University of Evansville in 1979. His mother, a registered nurse, worked locally for the American Red Cross. Greaney took a part-time job there before learning of an opportunity to put his education to good use as a field accountant at Red Cross headquarters in Washington. 
He worked there through the mid-1980s before becoming medical center auditor at Georgetown University, which is where he first learned about CESJ. He also worked for the Federal Election Commission and has consulted over the years with Equity Expansion International, Inc. He has been with CESJ since 1987.
Greaney also has considerable writing credits, having authored and co-authored a number of books that explore various aspects of human dignity and building a just social order. He said, "By that I mean the recognition of each human being as a person – thus possessing equally along with every other person, the full spectrum of natural rights. These fundamental rights include life, liberty and private property; and the right to participate fully in all the institutions of the common good."
In the announcement of TAN's publication of "The Greater Reset," Greaney and Brohawn said, "Consistent with natural law and God-given rights, every human person from birth to death must have equal opportunity and access to the means — particularly the economic means — to preserve their freedoms, participate fully in society and the economy, and live a good life." 
The Greater Reset: Reclaiming Personal Sovereignty Under Natural Law, is available from TAN Books at www.tanbooks.com and other online retailers, including Amazon.