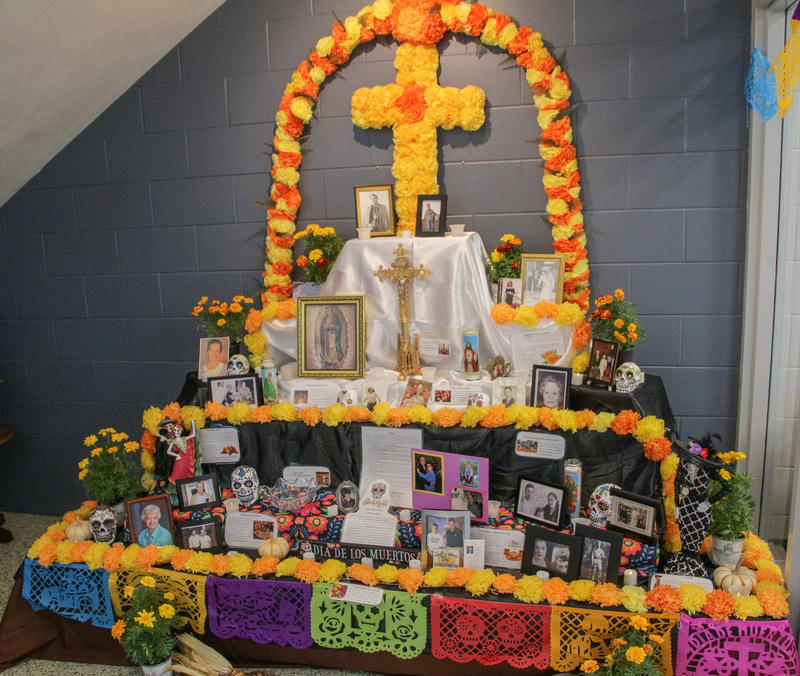 The Message photo by Tim Lilley / La foto del mensaje por Tim Lilley
Bertha Melendres, director of the Diocese of Evansville Office of Hispanic Ministry, set up an Altar de Muertos (Altar of the Dead) in the Catholic Center in advance of the Nov. 2 celebration of All Souls Day, which is known in Mexico as el Dia de los Muertos (Day of the Dead). Staff members placed photos of loved ones on the altar whom they wanted all to remember and pray for on that special day. 
Bertha Melendres, directora de la Oficina del Ministerio Hispano de la Diócesis de Evansville, instaló un Altar de Muertos en el Centro Católico antes de la celebración del Día de los Difuntos el 2 de noviembre, conocido en México como el Día de los Muertos. Los miembros del personal colocaron fotos de seres queridos en el altar a quienes querían que todos recordaran y oraran en ese día especial.