Seminarian Nathan Folz
Seminary, Class: St. Meinrad Seminary and School of Theology, Philosophy II
Home Parish: Good Shepherd Parish, Evansville
Birthday: Oct. 13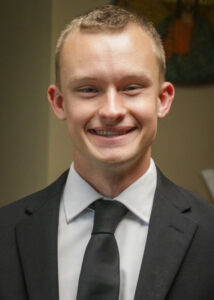 All of us are searching for happiness — it's part of who we are as humans — but often, this happiness can be elusive.
When I think about my vocation journey, I can see how much of it was driven by this hunt for happiness. Attending the Source and Summit retreat for the first time in middle school, I encountered people who were truly happy. Everywhere I looked there were religious sisters, brothers, priests and lay people who radiated joy. It was a happiness that I wanted for myself.
But where did they find it? What did they find it in? What I didn't realize was that happiness couldn't be found in some place or a thing. Rather, the source of their happiness was someone.
Pope Benedict XVI understood this search for happiness and speaking at World Youth Day in 2005, he explained where to find the happiness we're all looking for. "The happiness you are seeking, the happiness you have a right to enjoy has a name and a face: it is Jesus of Nazareth, hidden in the Eucharist. Only he gives the fullness of life to humanity!"
The people who I had encountered at Source and Summit who lived their lives with such joy knew Christ intimately. Their lives were centered on Jesus in the Eucharist, and it was in him that they found their happiness. Once I understood this, I began to work to cultivate a deep relationship with Christ in the Eucharist.
As I came to know him more intimately, I found that I was hearing more and more clearly a call to discern the priesthood. My search for happiness led me to Jesus in the Eucharist, and through him, to the seminary to discern what his plan is for my life.
All of us have different stories, but all of us are searching for happiness. If we want to find that happiness and live our lives to the fullest, we need to look no further than Jesus Christ, truly present in the Eucharist.