By Megan Erbacher
The Message assistant editor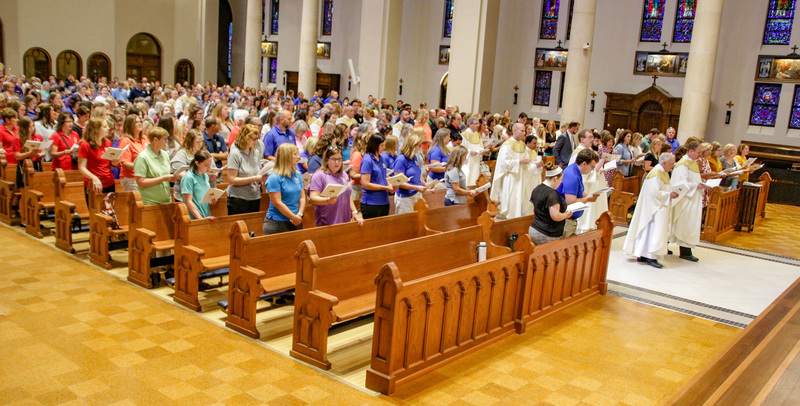 Bishop Joseph M. Siegel told Catholic School teachers, administrators and priests that they have a special privilege and responsibility to help parents fulfill the commitment they made in baptism to form their children in the Catholic faith.
Bishop Siegel celebrated Mass for about 600 Catholic educators from all 26 diocesan schools who gathered July 31 at St. Benedict Cathedral in Evansville to celebrate the annual Back to School Mass to kick-off the 2023-2024 school year. Twenty-one priests of the diocese concelebrated Mass with the bishop.
Aaron Schmitt, principal of Evansville's Reitz Memorial High School, served as lector for the Mass. Deacon Dan Niemeier, principal of Evansville's Mater Dei High School, assisted at Mass and proclaimed the Gospel. Gift bearers for the Mass were Kassandra Spindler, the new principal of St. Joseph School in Princeton; Dominican Sister Catherine Stewart, the new principal of Westside Catholic School's St. Agnes Campus in Evansville; and Lori Schopmeyer, interim principal at St. Benedict Cathedral School in Evansville.
In his homily, Bishop Siegel explained that our Catholic faith should permeate every subject that is taught, every sport that is played, every activity and club that is organized within diocesan schools. He said educators should help young people to encounter Christ and His church to grow in holiness and become missionary disciples who use their God-given gifts to live their faith and to share it with others.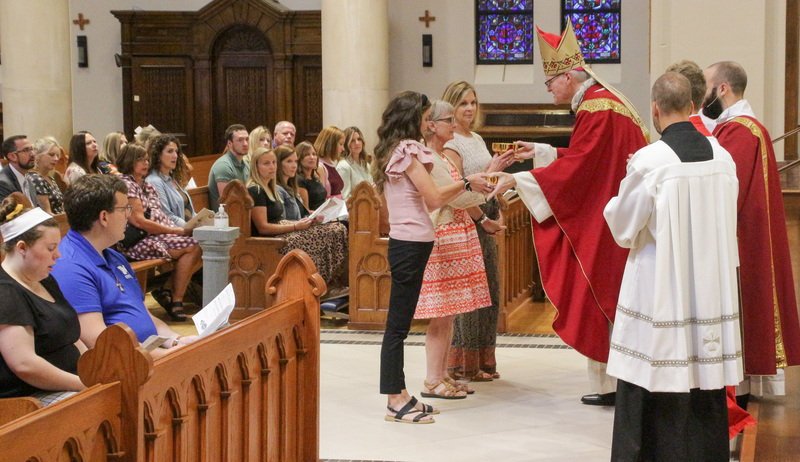 As we celebrate this Mass of the Holy Spirit in preparation for another school year, Bishop Siegel prayed for a deeper outpouring of the Spirit in our lives, our schools, our diocese and our communities.
By witness and example, Bishop Siegel said educators are to demonstrate to students what it means to be a follower of Christ, a follower who strives for holiness in ways great and small. It isn't always easy, he said, but the Holy Spirit is ready and willing to help educators fulfill this commission. Bishop Siegel asked the Holy Spirit to strengthen Catholic educators to be teachers and evangelists for students and witnesses to the good news of Jesus Christ.
The 2023-2024 diocesan school theme is "Anchored in Faith."
During the Back to School gathering before Mass, Diocesan Superintendent of Schools Michelle Priar said the theme makes her think of "being grounded and connected to something very solid."
"It's a great image that's especially comforting when things get a bit shaky, to know that we can hang on tight to our faith, and it will help us weather whatever stormy conditions we might be in," she explained.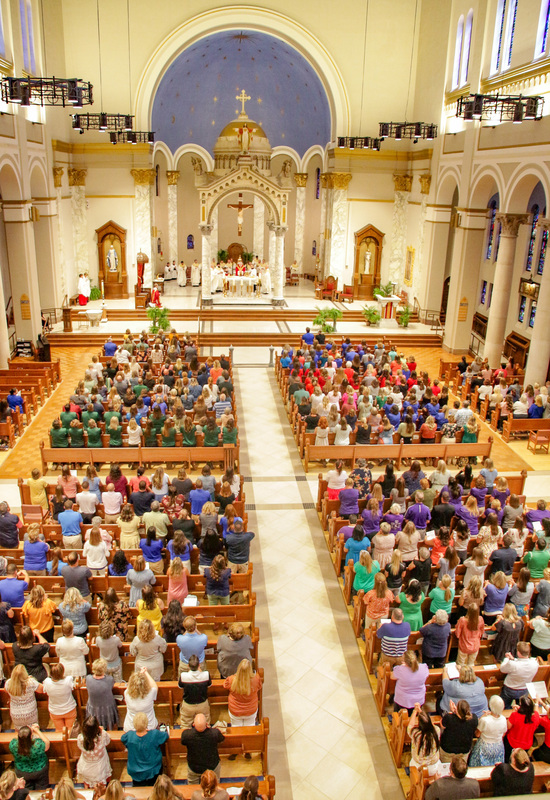 Priar said the theme isn't just a logo, but it's what Catholic educators do every day, they stay anchored in faith.
"What a gift we have, that we get to teach in Catholic schools where we can help set that foundation of our faith firmly in the students that we serve," she said.
After Mass, Diocesan Associate Superintendent Kari Ford announced this year's teachers and administrators who were recognized for milestone years of service and retirements, while Bishop Siegel and Priar presented their certificates. The honorees will be featured in a future issue of The Message.
Diocesan Catholic School students returned to the classroom starting Aug. 2, and everyone was back by Aug. 10.