BY MEGAN ERBACHER
The Message assistant editor
Without animals, Annunciation– Christ the King Campus first-grader Kendra Srinivasan said we might not be happy.
Classmate Destro Bashem, 7, agreed and said he cares about animals. Bashem, who has a pet fish, said that's why the school's first and fourth grades decided to help animals with their service project.
"(Animals) make us feel more confident," he said.
Annunciation–Christ the King School wrapped-up the Vanderburgh Humane Society Service Project and Wands for Wildlife Collection during an Oct. 25 assembly. Grade levels partner-up monthly to integrate Leader in Me habits and the school's spiritual life. For October, first and fourth grades collaborated on a project that focused on St. Francis of Assisi, patron saint of ecology and animals, and on Leader in Me Habit No. 2: Begin with the End in Mind.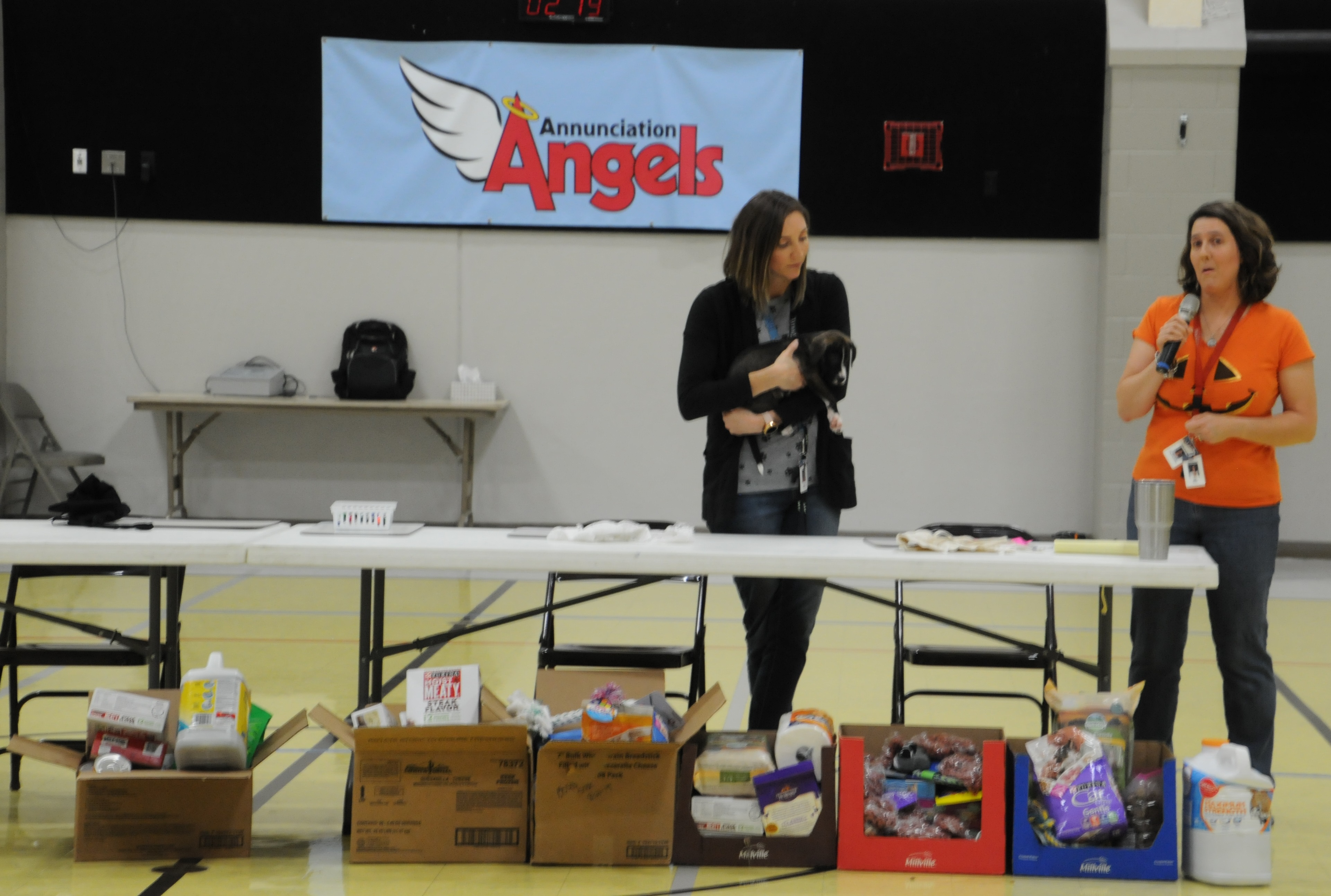 "You can't make a difference if you don't have a plan to make a difference, and that is what the mission of the VHS is all about," said Heidi Bailey, first-grade teacher.
From Oct. 21-25, students worked on collecting money and items for VHS and Wands for Wildlife. The objective, Bailey said, was for students to recognize the needs of animals and to help those animals in the community.
Wands for Wildlife aids Appalachian Wildlife Refuge, a wildlife rehabilitation
nonprofit in Western North Carolina. By recycling old mascara wands, the refuge can use them to help remove fly eggs and larva from the fur of animals. The wands work great, according to the group's website, because the bristles are close together and gentle to use on injured and orphaned animals.
Bailey announced during the assembly that students collected more than 250 items and raised $155 for VHS to help animals in the community.
"Our students are passionate about animals and like helping animals," Bailey said. "We heard on the news how VHS was really hurting for donations, so we informed our students about their needs."
Vanderburgh Humane Society Education Coordinator Cyndi Hoon Donley brought an 8-week-old puppy, Jetta, when she came to collect the donations.
During the project, students created an Angel Zoo to help their peers learn about habitats and animal needs. Then, kids researched and made a booklet about a chosen animal. Students could also participate in a $1 dress day where they donated $1 to dress in animal-themed clothing.
Kids led marketing initiatives, including distributing fliers to promote the project; selected a collection committee; and delegated social-media representatives for the service project.
The students managed donations and kept tallies of each class to see who collected the most. Bailey declared the top three classes were: first place was fourth grade, second place was first grade and rounding it out for third place was third grade.
First-grader Reagan Bauer, 6, said she wants animals to be healthy like her dog, named Bernice.
"They're sweet, and they have feelings just like us," Bauer said.
Fourth-grader Brody Hiester, 10, said he feels bad for animals without homes, so they wanted to help because they're a living thing, too.
"They're cheerful," Hiester said. "They're always fun to play with; they never run out of energy."
Cooper Kerner, 10, likes to play with animals.
"You can play games with them that you can't play with people," Kerner said. "And if you're having a bad day you can explain it to them and they'll, like, heal you."